Vienna House Andel's Berlin – Two Nights in the Coolest Hotel of Germany's Capital
In March, I have been at ITB – the biggest International Tourism Fair in the world – in Berlin. Among other things, I talked to the contact person of Vienna House. They always wanted to invite me, but unfortunately, it never worked out. So I was spontaneously asked if I would like to test one of their hotels in Berlin. And only a week later, I checked in at the Vienna House Andel's Berlin.
Vienna House Andel's Berlin – The Hotel
Vienna House Andel's is a hotel of contrasts, which is so typical for the German capital Berlin: Design and lifestyle meet a cool party spot at lofty heights, an ingenious kitchen in the Michelin-starred restaurant as well as an exciting location for events and a retreat for those seeking peace, The design hotel has four stars and is located in the trendy district of Friedrichshain. Thanks to S-Bahn (which is a bit like the metro but over ground) and tram right outside the door, it is actually good and easy to reach from anywhere.
These are the facts at a glance:
557 rooms and suites
A business lounge called a.lounge
3 restaurants and 1 bar
A spa including a gym
22 conference and meeting rooms
15 spacious suites for meetings
Event area with 3,800 m²
24/7 reception
Lounge for smokers
Mobile Concierge
Free Wi-Fi
Underground parking
Vienna House Andel's Berlin – My Room
I spent two days in a nice Deluxe Room on the eighth floor. I especially liked that it is equipped with shower and bathtub. In the comfy sitting area, I spent several hours working.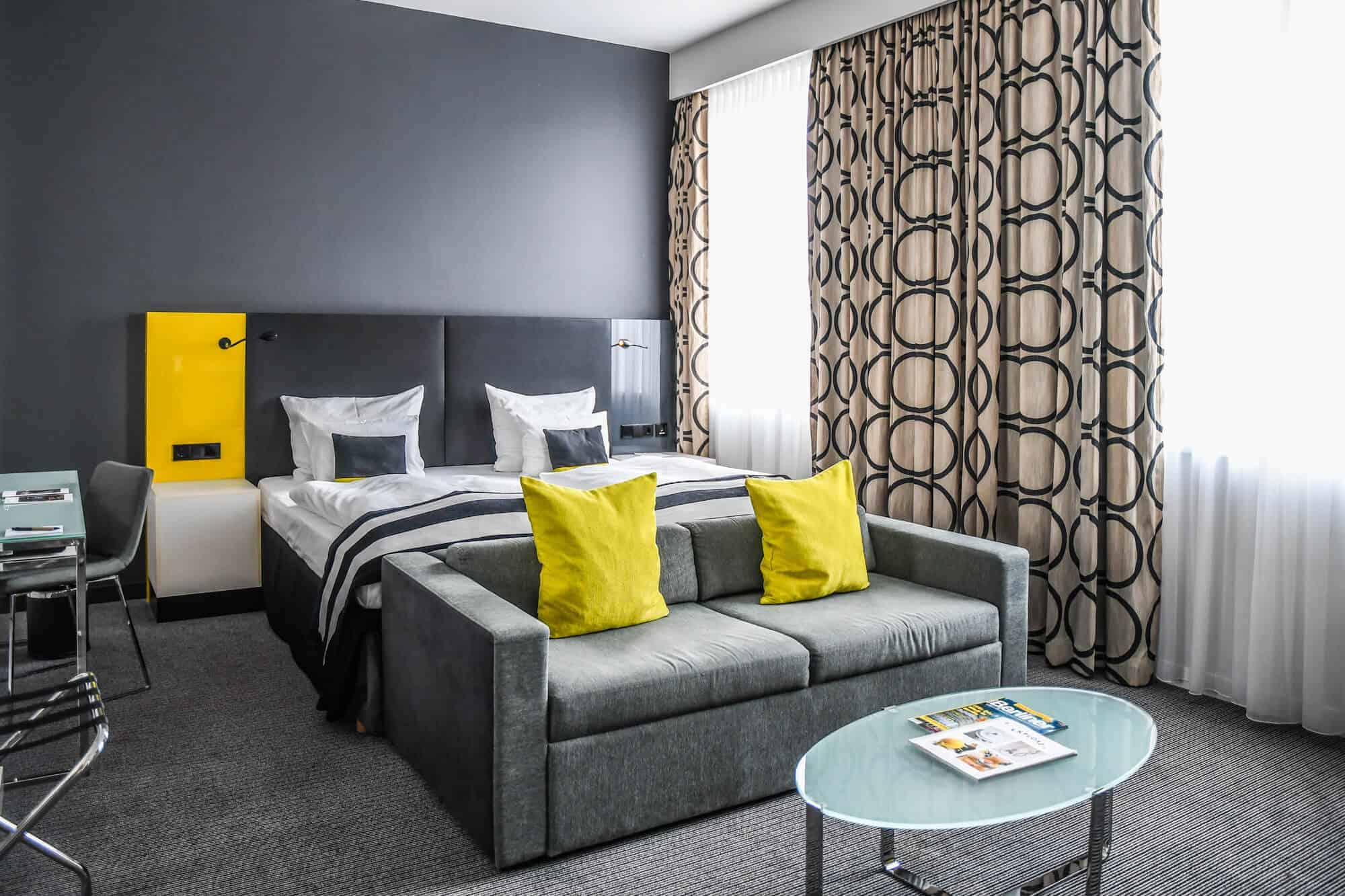 I also loved the cotton bag that I could hang on the door to signal that I did not need new sheets and towels. A hotel that values sustainability is always to my taste!
Vienna House Andel's Berlin – The a.lounge
The Business Lounge called a.lounge welcomes you with a homely atmosphere and snacks – if you have booked an Executive Room or higher, it's free to use (otherwise it costs a daily rate). I went there several times to work in peace and to be able to enjoy the snacks.
In the morning there is breakfast until 11 o'clock – if you have an Executive Room or a Suite and do not wish to eat in the large restaurant, you can do so in the a.lounge. Afterwards, there are snacks and in the evening soups for you.
But above all, I liked the working atmosphere in the a.lounge. Several people sat here working at laptops. That's how I like it. On the second floor is also the smoking area. While I was there, however, it was empty, so I could work there completely undisturbed on my online projects.
If it is warmer during your stay, you can go to the terrace to work with a view, watch the TV tower, or experience a perfect sunset.
Vienna House Andel's Berlin – The Spa
The 550m2 spa is not only huge but also includes a great offer: here you will find a gym open 24/7, a wellness oasis with sauna and whirlpool, as well as a spa with massages and cosmetics with vegan natural products.
I enjoyed a really relaxing foot massage.
Reservations must be made by phone at +49 30 453 053 2401. Massages and beauty treatments take place only with appointment.
While the gym is open 24/7, the spa & wellness area has the following opening hours:
Monday to Saturday 10am to 10pm
Sunday & public holidays 9am to 8pm
Vienna House Andel's Berlin – Restaurant Delight
There is a rich and delicious selection for breakfast between 6:30 am and 10:30 am and on Sundays and public holidays even until 1 pm. You can order gluten-free and vegan options, otherwise you can simply enjoy the buffet. There is delicious muesli, bread and buns, eggs in all variations, and many, many fruits.
For children, there is a separate buffet table.
If you prefer to have breakfast in your room, the room service is only 5 euros extra. However, you should order it by 2am.
Vienna House Andel's Berlin – The Mavericks
Berlin meets Californian lifestyle!
The restaurant Mavericks has its own entrance and is, therefore, perfect for walk-ins. Of course, there is an entrance at the hotel, too. Here it feels like you have been teleported to a restaurant on the coast of California. The decor has a cool look that combines natural elements such as shells and wood in a stylish way with brass and steel. You can't help but look around and discover the many small details.
The kitchen is like a colorful medley. American, Mexican and Pacific influences conjure a feast on every palate. The pumpkin ginger soup was especially delicious! And I LOVED – I know, it sounds weird! – the homemade bread! Served with a sweet-tart spread, the taste literally explodes when the bread touches your tongue with the various herbs.
Vienna House Andel's Berlin – The Skybar
Fabian Buhtz and his team welcome you at the coolest spot of all Berlin: the Skybar! Here, it's all about Classy meets Berlin Style Cocktails. Good bar culture meets extraordinary mixology art. The contrasts of the interior and the delicious drinks create a very special atmosphere.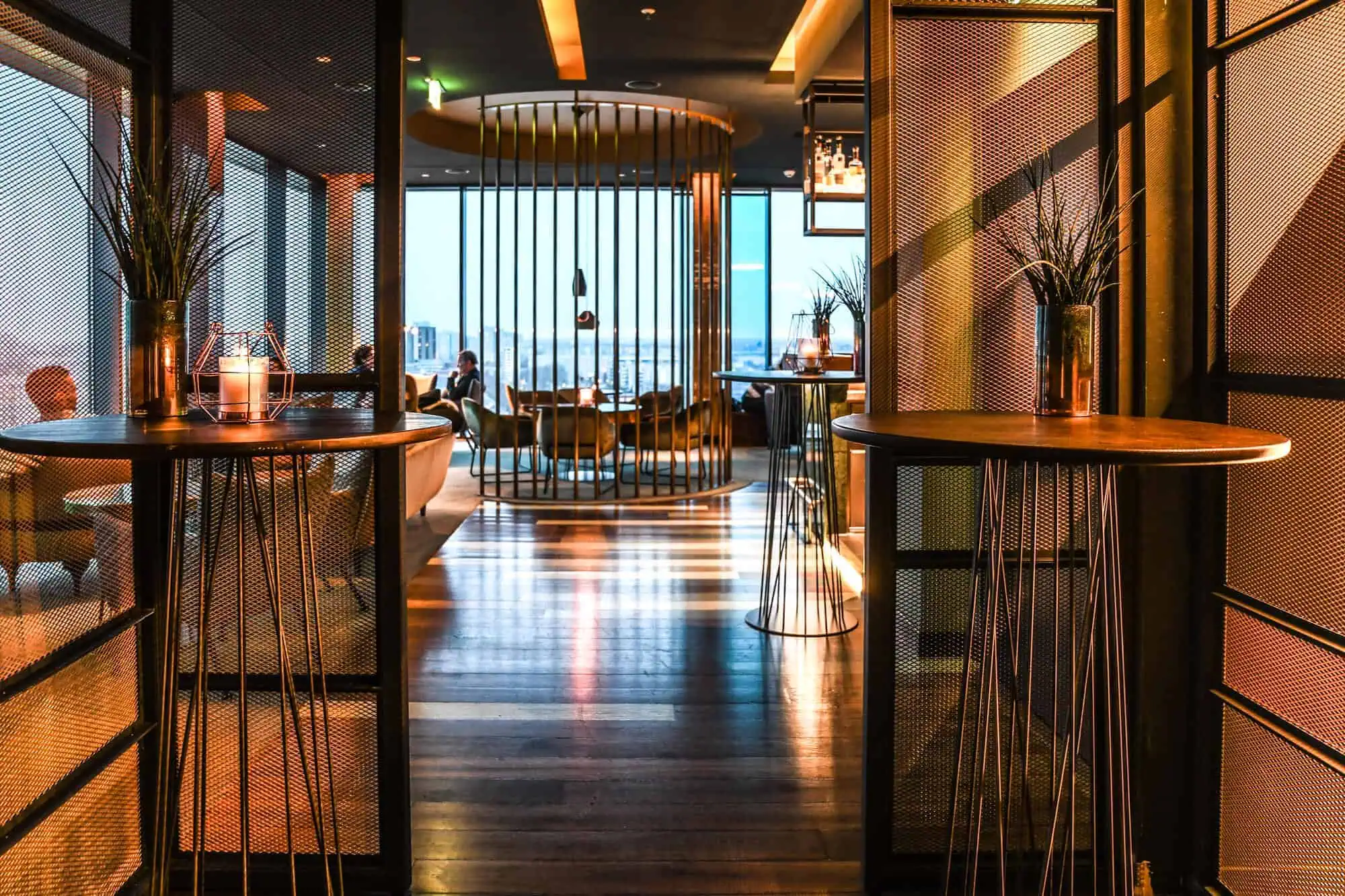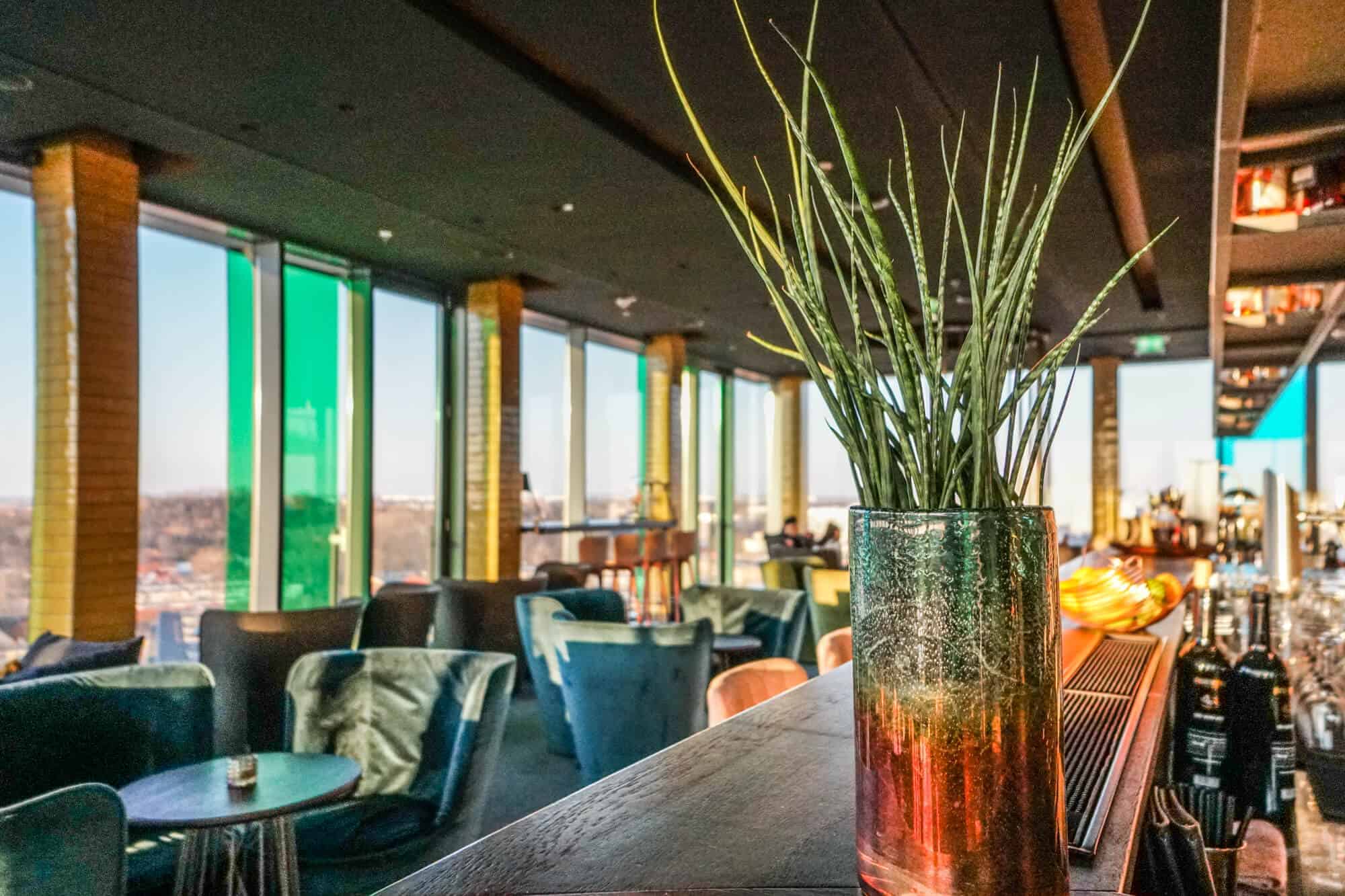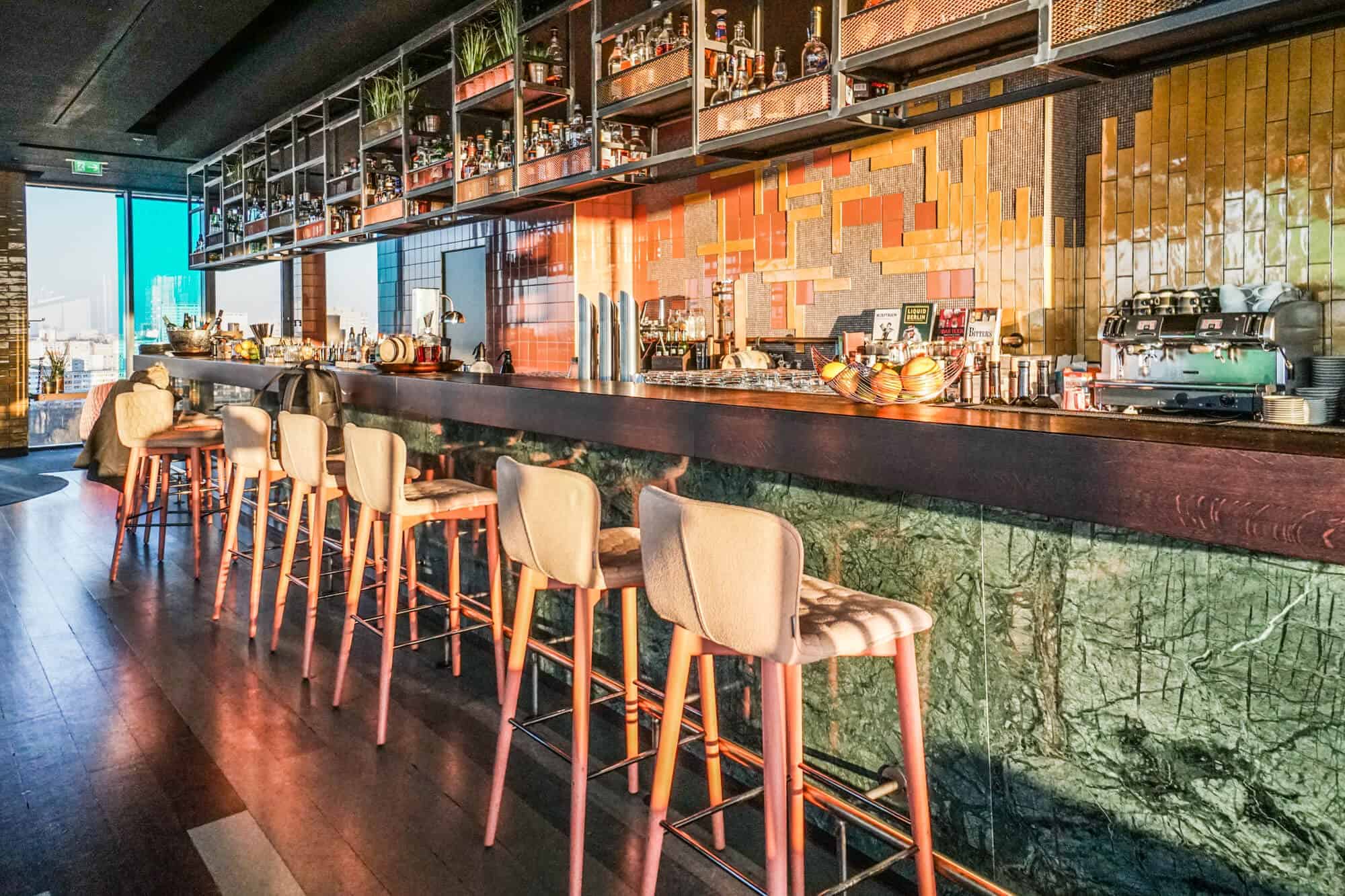 On the 14th floor, at 65 meters, you can expect a fantastic panoramic view over the German capital – including the sunset over the TV tower, if you are there at the right time! So if you time your visit right and have a bit of luck with the weather, you can enjoy a breathtaking view.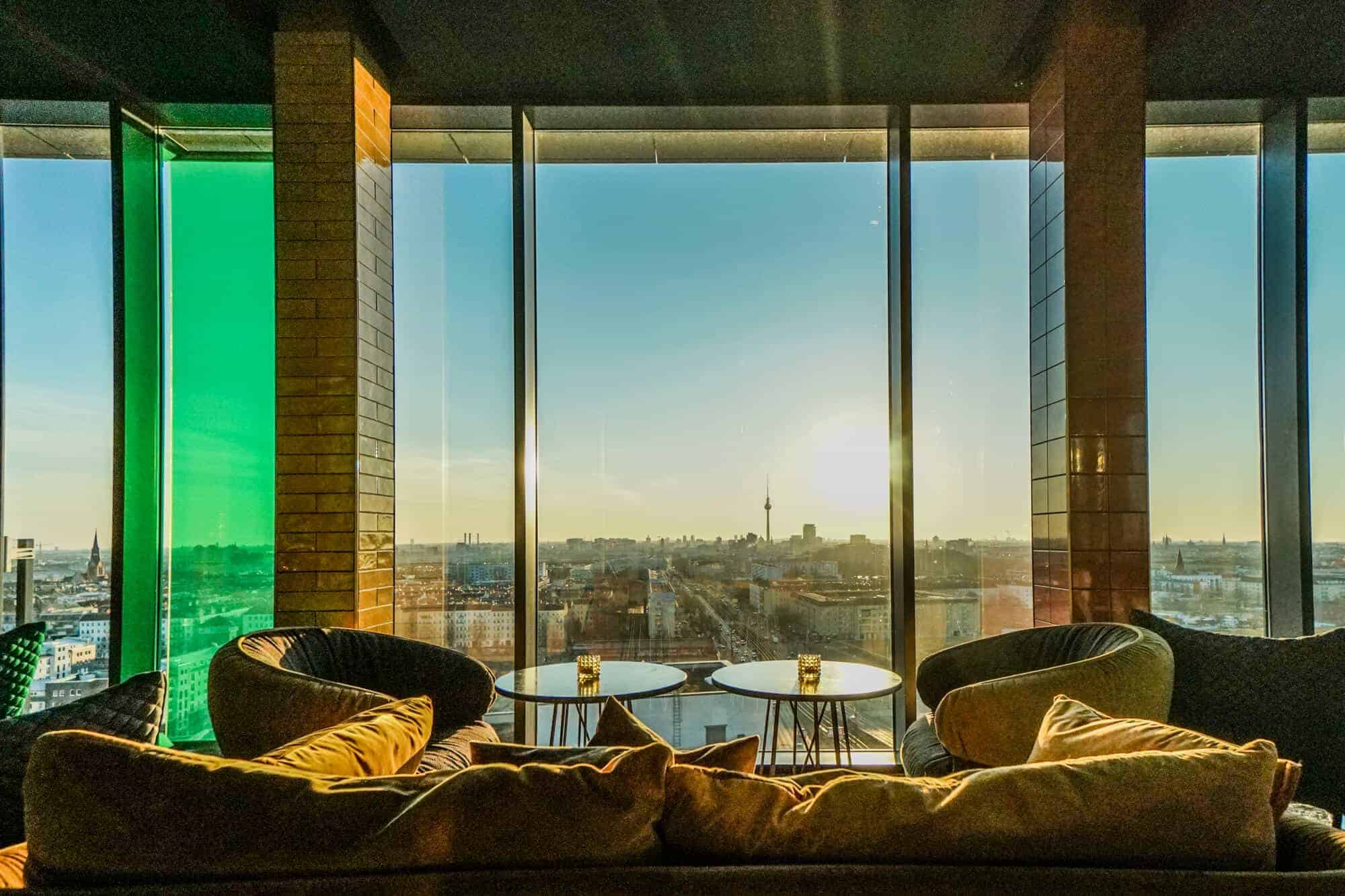 If you get hungry at this lofty height, you can order snacks.
Pro tip: The food at the Mavericks and here is almost the same. Of course, it's still delicious! Especially the fries (normal, garlic and sweet potato) are perfect for the small appetite.
Vienna House Andel's Berlin – The Skykitchen
The Skykitchen is an award-winning restaurant on the 12th floor of the Vienna House Andel's Berlin. In addition to the Michelin star, the restaurant has also received other awards. Here you have to book well in advance. The waiting time for a free table can be up to three months.
Vienna House Andel's Berlin – My Final Thoughts
I spent two amazing days at the Vienna House Andel's Berlin. The room was nice, perfect in size with everything you need. Especially in the a.lounge, I could work in peace and snack all day. The massage in the spa was pure relaxation and the sunset from the sky bar my absolute highlight. All in all, I'm really happy that I had the chance to stay there for two days.
if you want to check out the reviews or book your own stay, go to TripAdvisorTripAdvisor*!
PS: I have been invited by Vienna House for the two nights with breakfast. In addition, I got a treatment at the spa, a meal at the Mavericks and an evening in the Skybar. I haven't received any financial compensation. My opinion is not influenced by this collaboration.
Newsletter
Subscribe to my newsletter so I can keep you posted about my life of travels and as a digital nomad! You will never miss a new blog post, a new ebook or where my next adventure is going to bring us. Because it's never going to be boring!