Venice in a Day – Perfect 24 Hours in the Serenissima
My mother passed away on May 17th after a serious illness. On May 25th would have been her 62nd birthday, which she would have celebrated in Venice as it was her tradition. To honor her memory and to feel close to her once again, I went with my whole family to the Italian city of bridges over the weekend. Since we went there on Friday and back again on Sunday, we basically only had one day on site: May 25th.
Read here what we have seen and what you shouldn't miss on a day in Venice:
Venice – From Serenissima to Mass Tourism
Until 1797, Venice was the capital of the Republic of Venice and until the 16th century even one of the largest trading powers in the world. Venice had the most merchant ships, but also warships, and was thus able to maintain its supremacy over the centuries. The city was incredibly rich, which is why we can still admire immeasurable cultural treasures in the lagoon city.
During this period Venice also received the title of La Serenissima Repubblica di San Marco (the most Serene Republic of Saint Mark). The title was initially given to the Doge – the ruler of Venice – and the nobles. After some time, however, it was extended to the entire republic.
Venice was incorporated into Italy in 1866 and has been the capital of the Italian province of Veneto ever since. It lies in the northeast of the country in the lagoon of Venice. Within this lagoon, there are 118 islands, of which only 11 are inhabited. The main island with the old town has 63,000 inhabitants, by far the highest number of all islands. Since 1987, both the city and the lagoon have been on the UNESCO World Heritage List.
Today, Venice is more popular with tourists than ever before. Venice is on the bucket lists of travelers from all over the world and is also increasingly part of the itineraries of cruise ships. The new task is to master the balancing act between beauty and mass tourism.
Venice – How to Get There
By Plane: Venice has two airports. The city airport is called Marco Polo (the code is VCE) and is one of the busiest airports in Italy. The second one is about 40 kilometers away and is located near the city of Treviso (it has the code TSF).
By Train: Especially within Italy, traveling by train is cheap and fast. Venice's train station is located at a vaporetto station, so you can get on a water bus directly if your accommodation is too far to walk to or if you want to start sightseeing immediately.
By Bus: Venice is easy to reach by bus and very well connected to other cities in Italy and all over Europe. I haven't taken the bus to Venice yet, but I changed busses there already. I always use Flixbus.
By Car: This may seem strange at first, but since my parents came by car every single time, I want to add this possibility, too. If you drive over the Brenner Autobahn, you pay about 30 Euro motorway toll to Venice. From Mestre (one of two districts on Venice's mainland) you drive over a bridge to the island of Tronchetto, where parking garages are waiting for the motorized visitors. These cost from 30 euros per day and you should reserve in advance. A pedestrian bridge will take you to the main island and you can either walk to your hotel or take a vaporetto – a water bus.
Venice – Sights
Since I only spent one day in Venice this time, my tips are focused on a day or weekend excursion with arrival on Friday and departure on Sunday.
The main island is the most touristic part of the city. There you will find famous sights like St. Mark's Cathedral at St. Mark's Square and the Doge's Palace next to it, the Rialto Bridge and the Bridge of Sighs Ponte dei Sospiri. Be prepared that all these sights are crowded during the day.
St. Mark's Square, St. Mark's Cathedral and St. Mark's Tower
Since you will hardly go to Venice and then skip St. Mark's Cathedral, you will have to live with the crowd. If you want to avoid it, I have a tip for you though: If you, like me, go to St Mark's Square at sunrise, you will basically have it almost to yourself!
By the way, the tower is the bell tower of St. Mark's Cathedral and is therefore also called St. Mark's Tower. With 98 meters, it's the highest building in Venice. Its top originally served as a lighthouse so that the ships could find their way safely to the lagoon's harbor. In 1902 the tower collapsed after several earthquakes, but this was due to the fact that metal struts had been removed on the inside in order to build an elevator. The reconstruction, which used the original pile foundations that were 1000 years old but very well preserved, took nine years. The new tower was inaugurated on St Mark's Day, on April 25th of 1913. Today, it is possible to go up to the bell tower via an elevator. But also this is still on my bucket list…
The Doge's Palace
As already mentioned at the beginning, the ruler of the Republic of Venice was called Doge. The word is derived from the Latin word dux (leader). The first Doge was elected in 726. The Doge's Palace next to St. Mark's Basilica was the seat of government from the 9th century onwards and is still today a sign of the wealth, size and power of the lagoon city. This can be seen not only from the outside in the outstanding Venetian architecture but also in the stucco, gilded carvings and magnificent paintings inside. It is one of the most important Gothic secular buildings.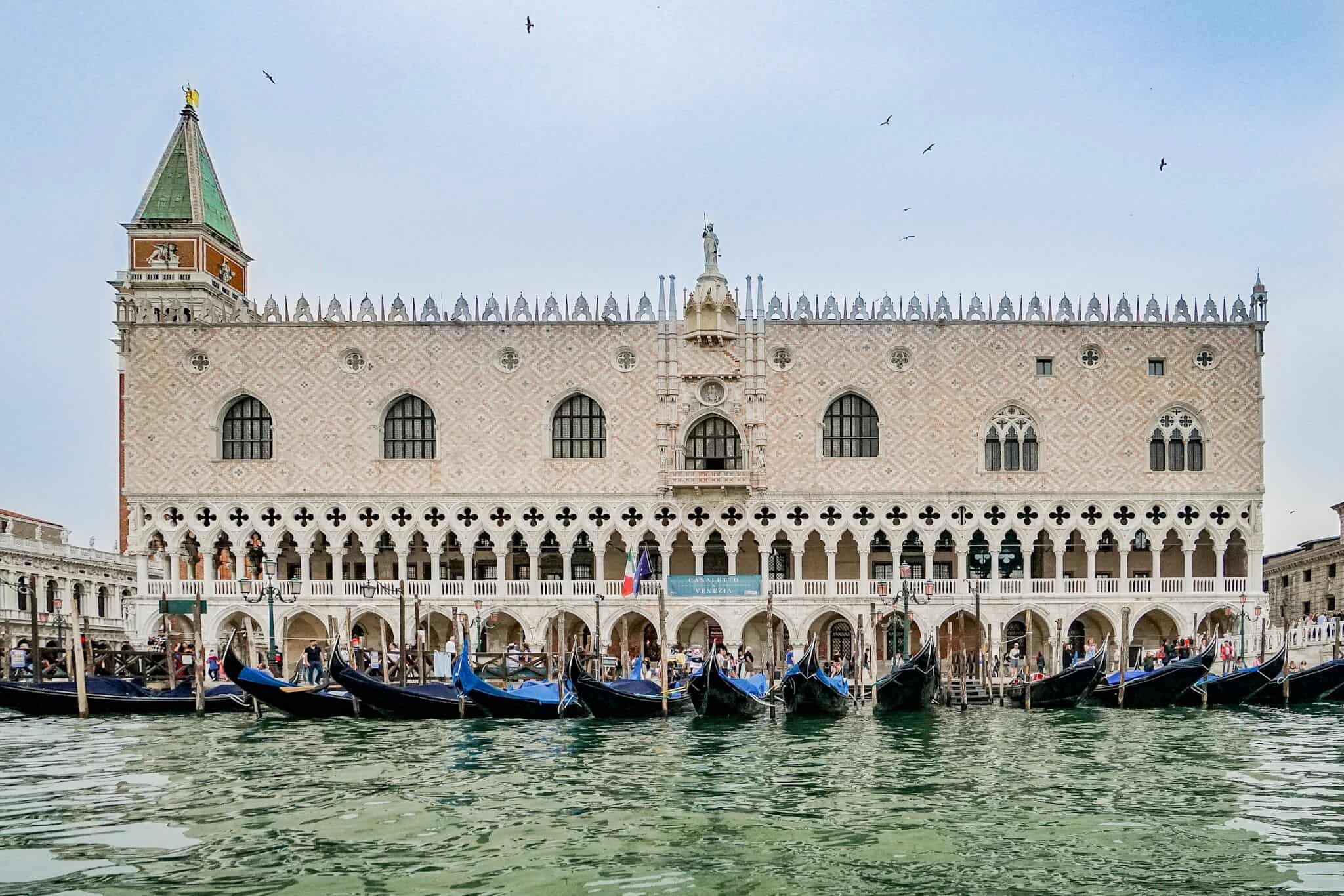 I must confess though, I've never been inside of the palace. Maybe I'll change that during my next visit to the Serenissima.
The Bridge of Sighs
Also the Ponte dei Sospiri – the Bridge of Sighs – has a completely different effect in the early morning hours. The water lies smooth instead of being stirred up by gondolas that always glide past. If you're there at 6am, you can even let your thoughts wander for a moment to the prisoners who long ago walked over the Bridge of Sighs and had a last look at the lagoon before they went to prison for the rest of their lives.
During the day, there is always a traffic jam of gondolas here since they start their tours through the small winding canals just around the corner.
The Rialto Bridge
The Rialto Bridge is one of only four bridges that cross the Grand Canal that separates the six districts called Sestieri: San Marco, Cannaregio, and Castello are on one side and Dorsoduro, San Polo, and Santa Croce on the other.
It's so peaceful to sit at the Rialto Bridge at 6 am and take as many photos as you wish without bothering or being bothered by others.
This is the view from the Rialto bridge in the late morning after the city and its visitors woke up:
Murano
We took a vaporetto around 12 o'clock and went to the island Murano.
The island is famous above all for the art of glassmaking. In the early Middle Ages, glassmakers were banished to Murano because the people of Venice were afraid of the fire. Since then, the precious glass has been produced here and has become world famous.
My mother loved the Murano glass and wanted a chandelier for our living room. I would like to fulfill this wish posthumously sometime.
Burano
Even if we didn't have a lot of time left, we didn't want to miss a visit to the island Burano. Around 3 pm we took a vaporetto which takes about 30 minutes to go from Murano to Burano. The colorful houses are simply too beautiful to miss. If you're looking for a peaceful place away from the crowds – maybe this is the place to choose.
What is the art of glassmaking in Murano is the lace in Burano. Here you can see elder ladies making lace. This is the main theme in every shop. Whether decorative items or clothes… Here everything is made of white cloth.
My mother loved to dig her way through the shops here and it wasn't until her last visit that she got hold of an embroidered painting of "The Kiss" by Gustav Klimt, which hangs in our living room. It was a strange feeling when my father showed us exactly where she had bought it.
Around 6 o'clock we made our way back towards the main island. There we planned to do one of the highlights of the day:
A Gondola Ride in Venice
Yeah, it's kitschy. But shouldn't a little kitsch and cliché be on the agenda in a city like Venice? I do think so!
The prices for a gondola ride are as far as I know the same everywhere and not negotiable: At all gondola stations of the city, there are signs with prices saying that the small tour (called Giro Turistico) costs 80 Euro until 7 pm and afterward 100 Euro. The so-called Giro Completo costs 120 Euro or 150 Euro.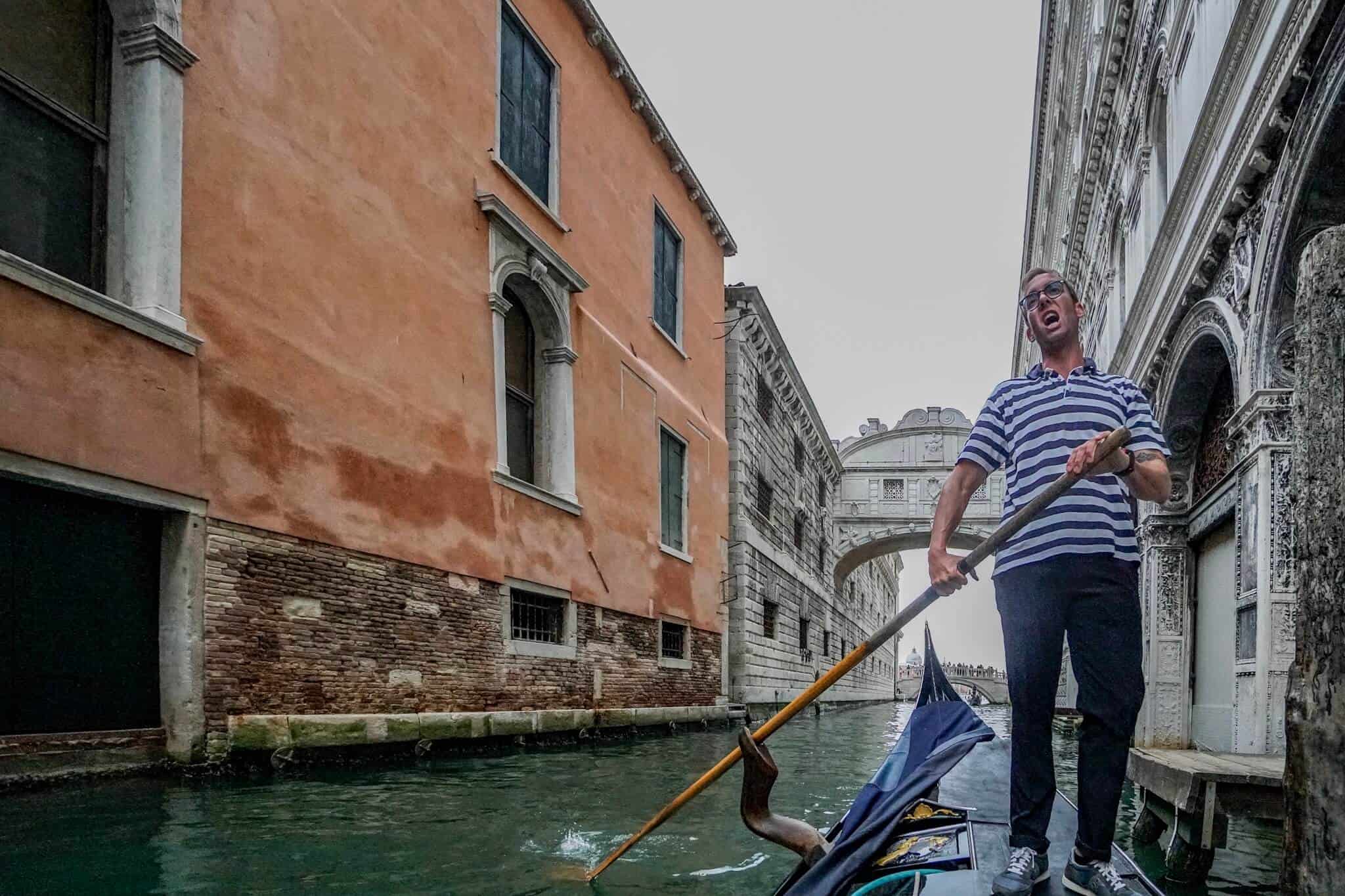 With a little luck like us, you will catch a gondolier, who was singing a traditional song about love and longing. Simply beautiful!
Venice – Hotel
During the weekend we stayed in this hotel: Hotel Santa Lucia. The hotel is small, but nice and is only a few minutes walk from the train station or the multi-story car parks. But it is a long way to St. Mark's Square. Still, in my opinion, the price-performance ratio was right. We paid 540 euros for two rooms with a total of five persons and two nights including breakfast.
You want to see other accommodation options for Venice? Check out these platforms: Booking*, Tripadvisor*, Airbnb* or Hostelworld*!
Venice – Where to go Next
Venice is ideal if you want to explore Italy further or if you want to travel further to the southeast of Europe. Here are a few examples of the cities that would work well:
Milan: Milan is the perfect destination, especially for shopping fans. But also culture enthusiasts will enjoy the Cathedral of Milan or the Scala.
Verona: The home of Romeo and Juliet is an ideal place for a weekend trip. Even if you are not an opera lover, the Arena di Verona is absolutely worth a visit. The atmosphere is unique and it is a very special experience.
Florence: In 2009, I spent half a year in Florence. Unfortunately, I didn't make it back there to write an article about this beautiful city that is definitely in my top 3 Italian cities – with Palermo and Rome!
Ljubljana: The Slovenian capital is a pearl of peace. From here you can either explore Slovenia or travel further south. For example to Rovinj.
Rovinj: I fell in love with Rovinj when I was there for a week last year. The charming old town on its own peninsula is simply picturesque and the sunsets are a dream. From Venice, you can either take the FlixBus to Rovinj or a ferry. Alternatively, do it like me and go on a motorcycle road trip through Croatia.
And even if this is not just around the corner, as a half Sicilian I would like to mention my favorite island: Sicily is the largest island in the Mediterranean and an absolute beauty.
Venice – Final Thoughts
For my family and me, this was a special and important journey where we experienced the places my mother loved so much and visited every year on her birthday. On the one hand, it was a farewell for us, but on the other hand, it also showed that we can feel close to her at any time by going to her favorite places.
But Venice is always worth a visit. I have been there three times now and even if it is crowded and in many corners anything but clean, I feel Venice is an absolute must-see in Italy and even in Europe. I continue to be impressed every time I stand in front of St Mark's Basilica, walk through the many alleys across the bridges or take a vaporetto across the Canal Grande admiring the old walls from the water. The city is and remains unique and I hope to travel there many more times.
Newsletter
Subscribe to my newsletter so I can keep you posted about my life of travels and as a digital nomad! You will never miss a new blog post, a new ebook or where my next adventure is going to bring us. Because it's never going to be boring!