Stopover in Singapore – How to Make Your Short Layover Special
Singapore is not only one of Asia's hubs par excellence. The city-state also offers entertaining opportunities to make your stay a real experience, both at the airport and on short excursions. I'll tell you what you can do to get the most out of your stopover.
Changi Airport – Stopover of less than three hours in Singapore
If you only have a few hours in Singapore and no time to leave the airport, that's no reason to be disappointed. Changi Airport is one of the most modern airports in the world and designed to entertain its visitors. You won't get bored here. Here are a few things you can do inside the airport:
Enjoy a foot massage – free of charge of course!
Go to the movies!
Use the rooftop pool!
Stroll through the Orchid Garden, the Cactus Garden, or the Butterfly Garden!
Use the entertainment space with many possibilities for LAN gaming and Kinect stations!
Changi Airport – Stopover of at least three hours
If you have at least three hours stay, it is not yet worth to drive to the city. You can leave the airport, though. Are you a foody and love to try local cuisine? Then you shouldn't miss a trip to the Joo Chiat Road! Only 15 minutes by metro or 10 minutes by taxi or Uber is a paradise for all who enjoy traditional food. Don't miss a bowl of Laksa!
Alternatively, you can visit one of Singapore's few natural beaches. I wrote about it in my blog post about the island of Pulau Ubin: In the suburb of Singapore, which has the same name as the airport – Changi – there is a beautiful beach as you would not expect in the ultra-modern metropolis Singapore.
From there, shuttle boats depart for the picturesque island of Pulau Ubin. However, you should definitely only dare the crossing if you are not too limited in time. But also the beach in Changi Village is absolutely worth it. Right next door you will find a typical Hawker Center, where you can have a taste of the local cuisine. And at a small price.
Changi Airport – Stopover of at least six hours
You were sad because your stopover in Singapore is six hours long and you think you'll be bored to death? You thought wrong! Changi Airport also offers a free sightseeing tour in addition to the possibilities mentioned above. Unfortunately, this is only recommended for a stay of at least 5.5 hours. But then you can experience the best sights of the city. Simply register in the transit area and look forward to the breathtaking Super Trees!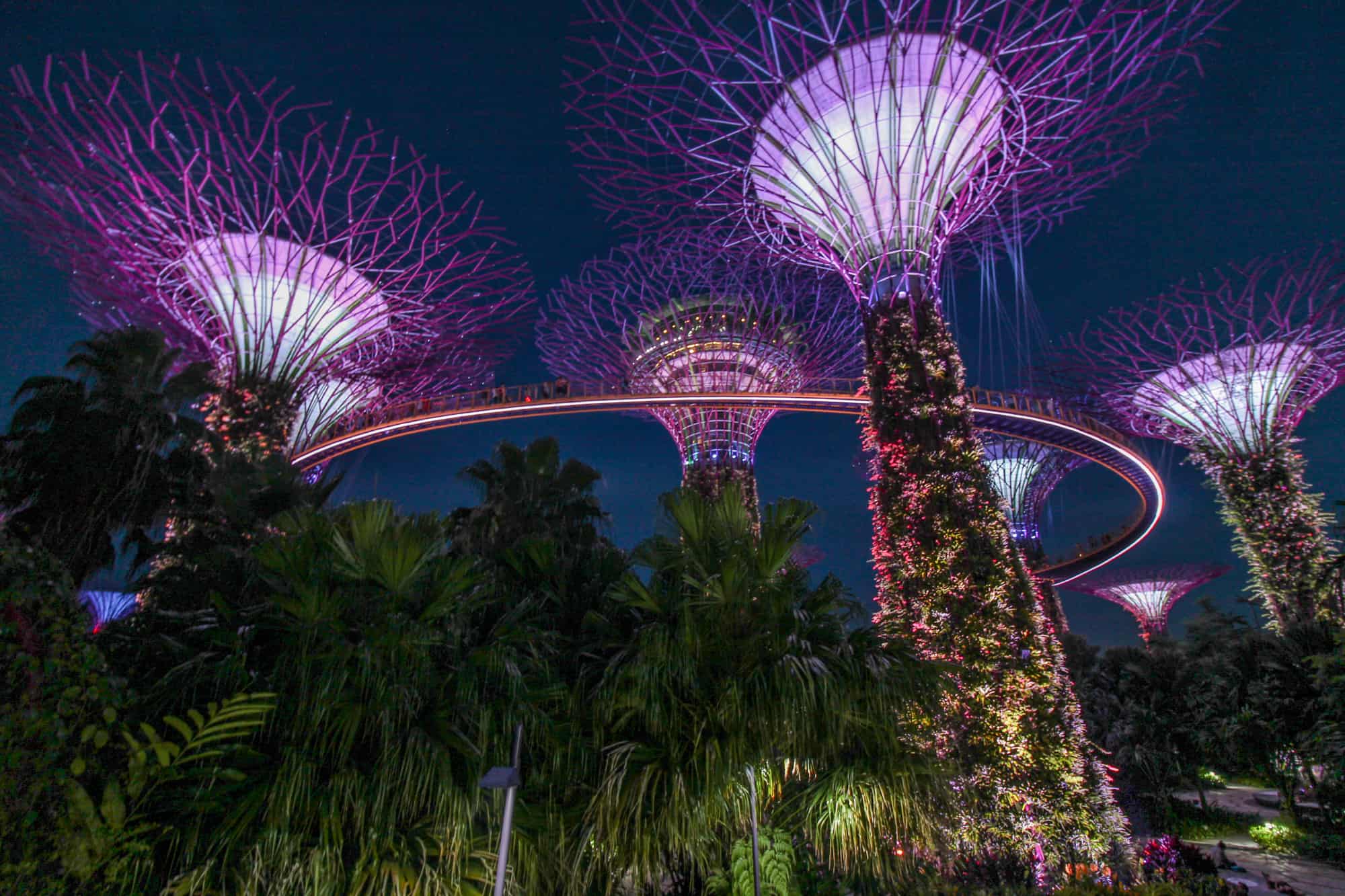 If you want to explore Singapore on your own, your list should definitely include Gardens by the Bay, the Marina Bay Area and the Marina Bay Sands Hotel with the cool SkyPark. Plan at least five hours for your tour. The distances are longer than one would expect from the map and walking in this large area and in the Singaporean-Tropical climate can be very strenuous. Also, keep in mind that you may have a long line at SkyPark.
If this is not your first time in Singapore or if you want to explore a little more unknown locations besides the famous highlights, I recommend a detour into the green heart of the city: for example, the nature reserve Bukit Timah awaits you with a relatively short but no less beautiful hiking trail through the jungle in the middle of the city. The word urban jungle takes on a whole new dimension! You can plan between one and two hours for this hike.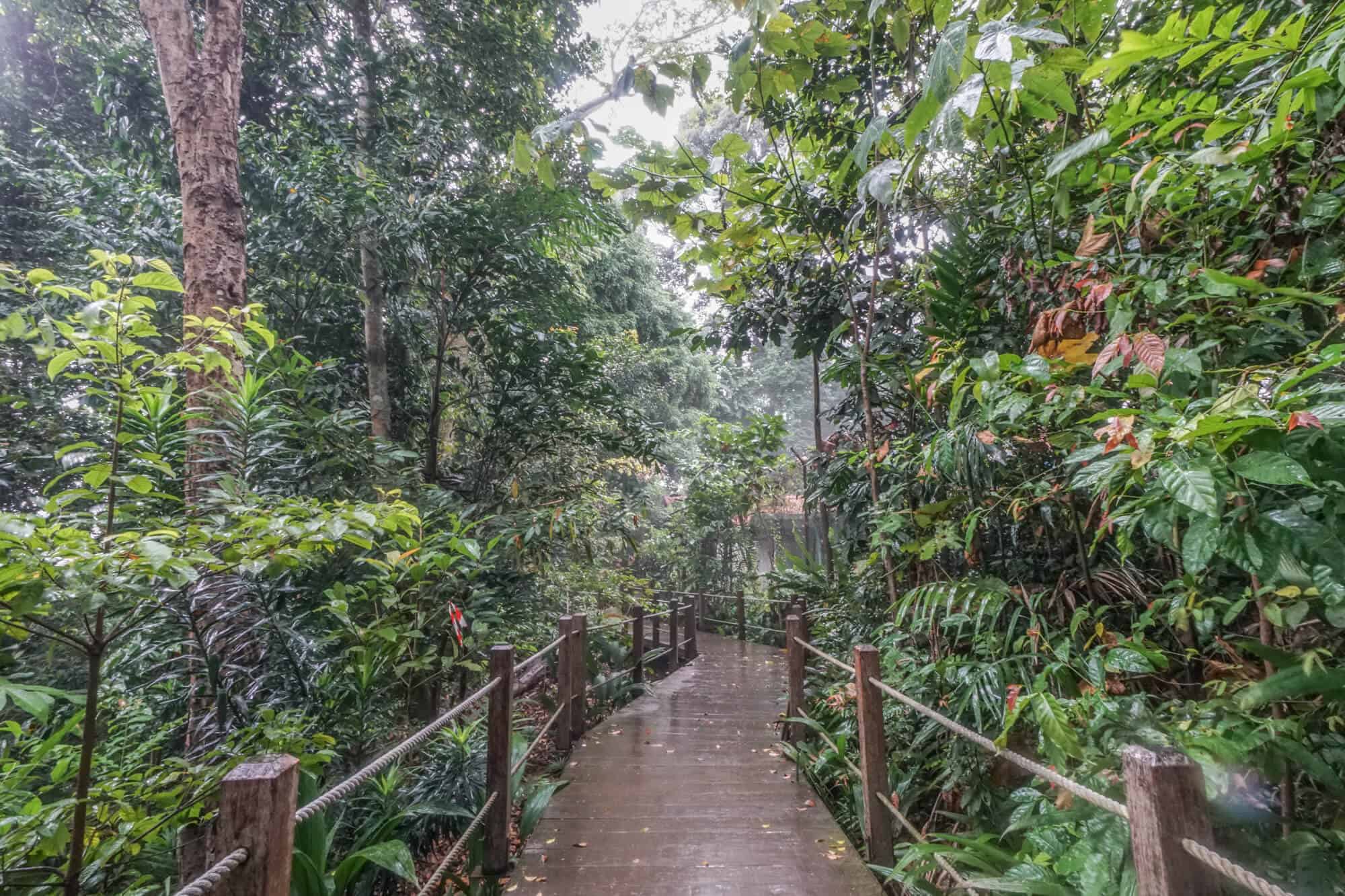 If you can be out and about in town at night, don't miss the light shows at the Super Trees and Marina Bay Sands. You can either walk through The Shoppes at Marina Bay Sands to get from Gardens by the Bay to Marina Bay. Or alternatively, treat yourself to a ticket to SkyPark and enjoy both spectacles from above. Since the shows take place 15 minutes apart, you can watch both without any problems. The normal playing time is 19:45 and 20:45 (at the Super Trees) and 20:00 and 21:00 at Marina Bay.
Also the trip to the already mentioned island Pulau Ubin is something very special and offers a completely different impression of Singapore than one would expect. Therefore you should plan five hours with a return trip to the airport. Above all, the fact that the shuttle boat only runs when there are enough passengers can lead to longer waiting times. On the island itself, you need at least two hours for a tour.
A short overview of the costs:
0 Euro – A walk through the park of Gardens by the Bay

0 Euro – Strolling along the promenade of the Marina Bay Area

0 Euro – Hiking through the nature reserve Bukit Timah

15 Euro – SkyPark at Marina Bay Sands

17 Euro – Entrance to Cloud Forest and Flower Dome in Gardens by the Bay

2 Euro – Boat crossing to Pulau Ubin
These were my tips for your stopover in Singapore. I have now spent about seven weeks in Singapore and can guarantee you that I have not seen everything I would like to see. The city has so much more to offer than you think and has not only grown to my heart but has also become a second (or third? or fourth?) home.
Live Like a Local in Singapore
You are new to Singapore or are just planning your first stay there? Then you should get my Singapore Guide for digital nomads for a smooth start into your nomad life in this South East Asian hotspot!
Are you searching for a cool spot for digital nomads in South East Asia?
You should check out:
Singapore
Although Singapore is very often only used to do visa runs, I think it's definitely worth checking out! In my opinion, it's an amazing place for digital nomads. That's why I wrote a guide for you to make you have a smooth start into your nomad life there!!
Newsletter
Subscribe to my newsletter so I can keep you posted about my life of travels and as a digital nomad! You will never miss a new blog post, a new ebook or where my next adventure is going to bring us. Because it's never going to be boring!