Stockholm's Metro System – A World of Art in the Underground
I didn't expect Stockholm's metro system to be that impressive.
I was prepared to see pompous palaces of the royal family, many bridges and most of all: a lot of water. Two days that was exactly what I saw. On my last day though I wanted to do something special – so I decided to spend multiple hours in Stockholm's metro system called Tunnelbana or short T-bana.
Stockholm's metro system
Visit Stockholm states that 90 of the 110 stops of Stockholm's metro system are decorated with painting, sculptures or other kinds of installations. Over 150 artist took part in this project and made this exhibition unique. This is a brochure with the intentions of the different artist: Click here!
Some advice in the beginning: a 24-hours-ticket for public transport is 115 Kronen (more or less 11 Euro), a 72-hours-ticket is 230 Kronen (more or less 23 Euro) and a ticket for a week is 300 Kronen (more or less 30 Euro). You can either buy the tickets in the SL stations, directly at the metro station or in the Pressbyrån shop. The paper cards are only available in the Pressbyrån shops. If you want to buy the ticket somewhere else you need the SL Access Card, which is a plastic card that costs 20 Kronen (more or less 2 Euro) und needs to be charged with money before you buy the ticket.
I didn't want to miss the longest art exhibition in the world with 110 kilometers! In my opinion it was absolutely worth it! But see yourself:
#1: Metro station T-Centralen
T-Centralen is Stockholm's Central Station. Here art is waiting in the upper level where the blue line is running: metro no. T10 and T11. The whole metro station is painted in different shades of blue and beige. The painting shows people working and floral decorations – but only shadows. You get the feeling of beeing in a cave.
#2: Metro station Kungsträdgården
Kungsträdgården is the last stop of the blue line T10 and T11. This is where most of the boat trips start as well as the Hop-on-Hop-off-Bus. So this is one of the important stops for tourists. It's a huge surprise when you are on the way to the Good morning Stockholm boat tour and out of a sudden you find yourself in this colorful cave.
You will be wandering in a landscape of archeological works of art and you will feel like being in another century or even in another world. I felt like being in Narnia and couldn't stop looking at this beauty.
#3: Metro station Universitetet
To get to the metro station Universitetet just take no. T14 from T-Centralen in the direction of Mörby Centrum. It's not one of the spectacular ones but it invites you to walk around and explore it. The whole metro station is decorated with tiles. Most of the are blue or green and tell you stories about discovering the world and the sea.
At one of the ends there are the emergency exits that are surrounded with those firy red tiles that are contrasting the green doors and signs.
#4: Metro station Tekniska Högskolan
Just take the same line (no. T14 to Mörby Centrum) to get to Tekniska Högskolan.From the Central Station that's only three stops that are really worth doing and you can combine your visit with the one at Universitetet. The station looks like a cave and is mainly painted in grey and blue. In the middle part where you can go from one platform to the other there is an impressive installation hanging from the ceiling.
#5: Metro station Stadion
You can combine going to Stadion perfectly with the two mentioned above Universitetet and Tekniska Högskolan. It's as well on the orange line T14 to Mörby Centrum. You will find yourself under a heavenly blue sky. In the middle part where you go from one platform to another you walk under a rainbow. Unfortunately there is no pot with gold waiting for you on either side of it. Still: a fascinating station.
#6: Metro station Östermalmstorg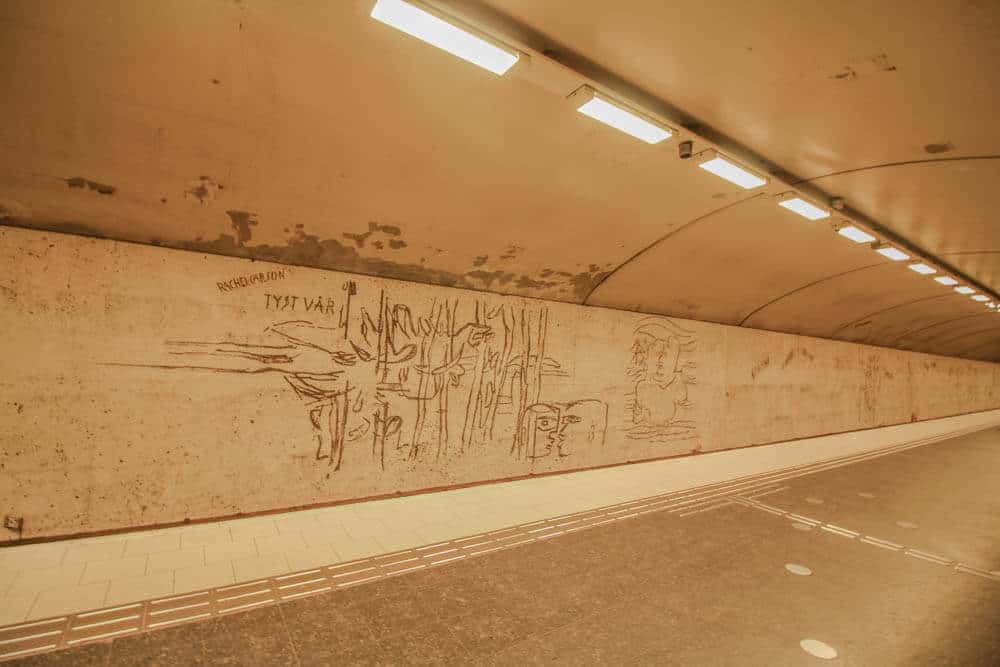 In Östermalmstorg the two lines of the orange line T13 und T14 split up and go in different directions. A good reason to stop by! The decoration on the walls are not really the nicest to look at, but the have a special meaning: the symbolize women rights, world peace and the green movement. The whole station was additionally created to take shelter from nuclear bombs.
#7: Metro station Gärdet
The penultimate station before Ropsten, the last station of the orange line T13 has those glass showcases in the walls. They show different things.
#8: Metro station Karlaplan
Karlaplan is between Östermalmstorg and Gärdet, so on the line T13. The walls are decorated with mosaics, that show a geometric theme. It's not one of the spectacular stops but nice to look at.
#9: Metro station Hornstull
You reach Hornstull with the orange line T13 or T14 in the direction of Norsborg or Fruängen. It's the only metro station that I have seen where the art work was not directly at the platforms. This sculpture kind of column  is outside directly at the shops. It consists completely of plaster casts of faces, hands or feet. Other things are shown as well. I still remember the owl, looking at me from above. I could have spent hours exploring this column.
#10: Metro station Bagarmossen
You can go to Bagarmossen with the green line T17 in the direction of Skarpnäck. It will take around 15 minutes. She not super impressive because it's not in a cave and it doesn't have installations hanging from the ceiling. But still it was worth going. I loved the colors of the glass in the walls that created a really special atmosphere.
#11: Metro station Rådhuset
For me Rådhuset is one of the most impressive stations in Stockholm! It's on the blue line which means you reach it with the blue line T10 to Hjulsta or T11 to Akalla. Everything is painting in this earthy brown color.
#12: Metro station Fridhemsplan
The blue and green line cross at Fridhemsplan. That means you can take no. T10, T11, T18, T17 or T19. You can combine this stop easily with T-Centralen or Kungsträdgården.The whole station looks like a greyish green cave and has a maritime theme.
#13: Metro station Solna Centrum
Solna Centrum is on the blue line T11 to Akalla. When waiting for your metro you do so under a sky of fire. In the lower part of the walls there are different topics: people cutting down the forest, animals in the woods, and so on. It's about the rural depopulation and the destruction of the forest and nature in general.
#14: Metro station Västra skogen
In Västra Skogen the two trains of the blue line T10 and T11 go different ways. If you want to see Solna Centrum and then go to Tensta (the next metro station) you need to change metro here. It's not super special if you have already seen some of the spectacular ones. If not this one is pretty cool.
#15: Metro station Tensta
Tensta is the penultimate stop of the blue line T10 to Hjulsta. That was the stop where I stayed most time and did most photos. The artist decorated the whole metro stop with cave paintings and quotes in different languages. It takes forever to explore this beautiful station because there is something new wherever you look.
On both side or platforms there signs with the word "fraternity" in different languages. The artist wanted to celebrate the many immigrants that are still living in this part of Stockholm.
Although it's not the most beautiful paintings of all time, I couldn't stop looking at this sun:
#16: Metro station Rissne
This station was on my way from Tensta to Solna Strand gefahren bin. It's not really necessary to get off the metro here but you can quickly take some photos.
#17: Metrostation Solna Strand (Vreten)
I have no idea why but in the map that I got together with my Stockholm Pass this metro stop was called Vreten! So don't get confused: You want to go to Solna Strand. This station is definitely less impressive as Rådhuset or Tensta, but when I saw a photo of this one, I knew: I need to go there! The huge dices seem to be growing out of the floor, the walls and the ceilings and show clouds and the sky. Unfortunately the dices are all extremely similar so there is nothing to explore. I am still happy that I got off the metro here.
That's already it… That were all the metro station in Stockholm that I have seen. 
Final Thoughts on Stockholm's Metro System
I think Stockholm's metro system is not only beautiful and gives travelers a totally different way of going on a sightseeing trip.
Which of the stations did you like best? Which ones would you really like to see with your own eyes?
Did you like this blog post?
Share it in your social networks!
Newsletter
Subscribe to my newsletter so I can keep you posted about my life of travels and as a digital nomad! You will never miss a new blog post, a new ebook or where my next adventure is going to bring us. Because it's never going to be boring!