Singapore Sightseeing: Classics and Insider Tips for your ToDo List
In my posts and on Instagram I already showed you countless times how fond I am of Singapore. Here comes my blog post about Singapore sightseeing. What you shouldn't miss in this beautiful city? Find it out now!
#1 Gardens by the Bay
Gardens by the Bay is a 101 hectare big national park close to downtown Singapore, that was build on land fills. Singapore aimed for offering its citizens more green landscape and some sort of recreational area.
The outer area of Gardens by the Bay is free to enter and you can take as many walks there as you desire.
The green houses, however, are 30 SGD, which is a lot but worth seeing once in my opinion.
Super Tree Grove
Scattered across the area are several so-called Super Trees. These metal tree constructions have a height of about 25 to 50 meters and are covered by rare plants. Each of them has a different name and topic. The most Super Trees are in Super Tree Grove, where there is a light show every evening (more on that further down).
They produce electricity through photovoltaics and, by collecting rain water, they assist the irrigation system and cooling systems of the green houses and the Super Trees itself.
Two of the Super Trees in Super Tree Grove are connected by a bridge – the SkyWalk.

Flower Dome and Cloud Forest
Also in this area you can find two green houses – the Flower Dome and the Cloud Forest – that host plants from Mediterranean / semi-dry climate zones and also display tropical vegetation.
Marina Barrage
Marina Barrage is a dam, but due to the nice park and green area on top of it, it became a favorite spot for picnics and kiting. Yes, kiting. The view of Garden by the Bay and Marina Bay Sands and also the skyline is breathtaking. If you can manage to be there on a clear day, you can see a beautiful sunset. Also, there are mostly locals here and less expats/tourists.
This is the view without the park in the foreground.
The Light Show in Gardens by the Bay
Every evening from 7.45pm to 8.45pm, you can see the light show in Super Tree Grove. Each time a different topic, the music gets accompanied by a 15 minute light show, coloring the trees in all varieties. This is a highlight for me and I try to include it at least once in every trip I take to Singapore.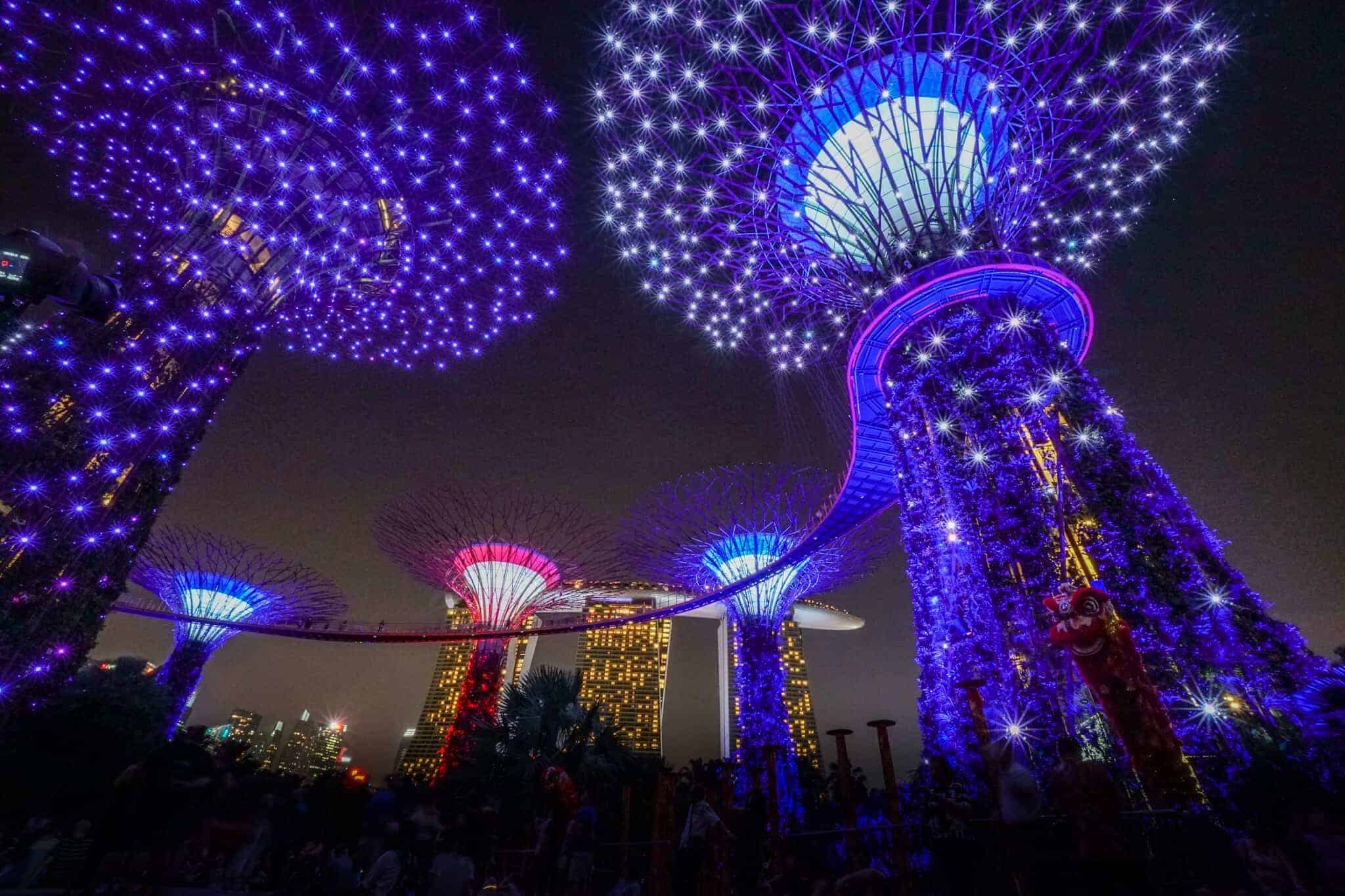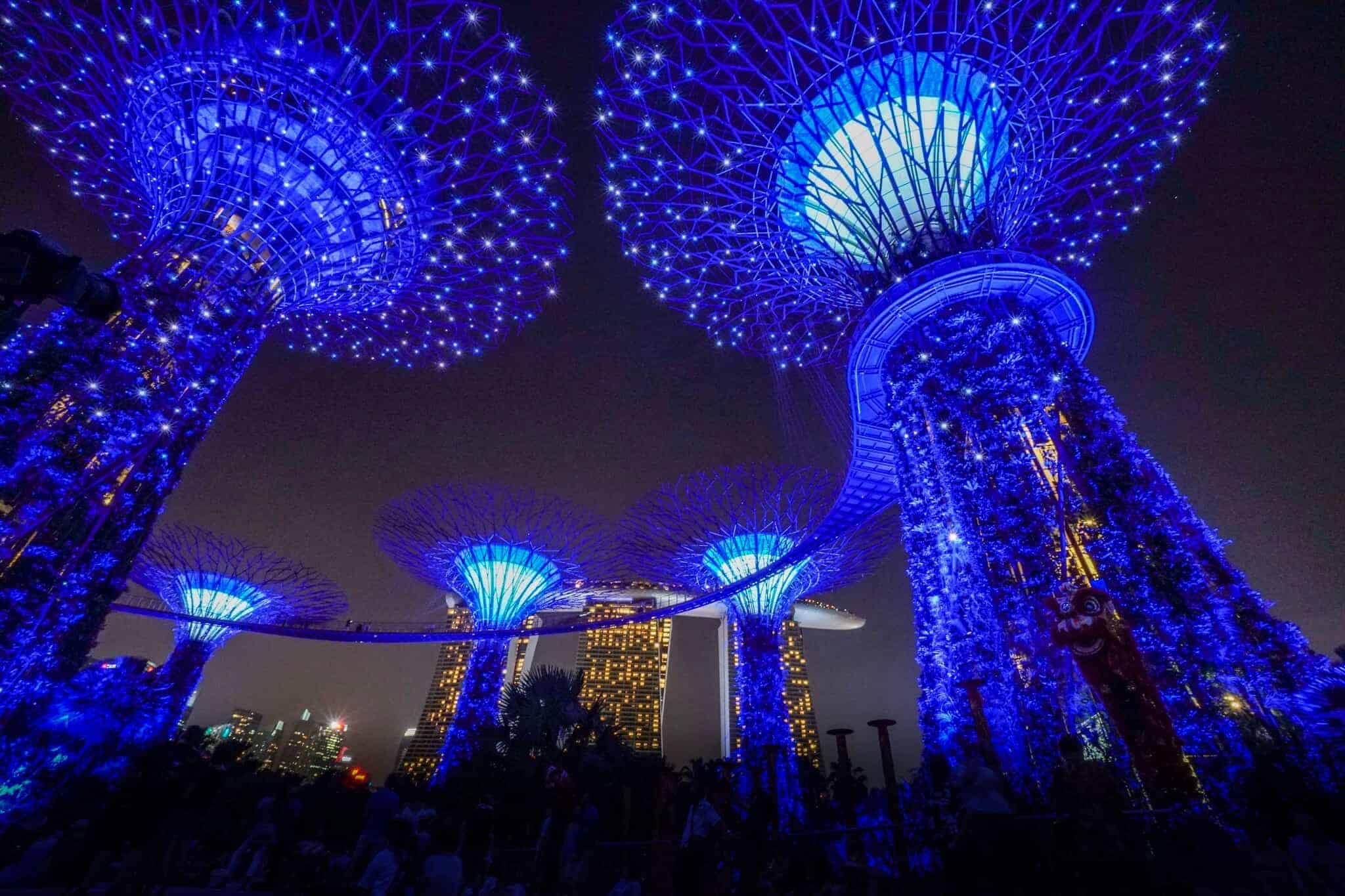 This light show is free of charge.
 #2 Marina Bay
Even though Marina Bay is the youngest district of Singapore, it probably houses the most famous tourist attractions of the city. If this is your first time in this Asian metropolis or you just have a short layover, you will probably find your way here.
The Merlion
The Merlion is a landmark in Singapore. Half fish, half lion, the legend says it protected Singapore's people from enemies and violent storms. Therefore, they erected this 37 meter tall statue and the city got the nick name Lion City.
The Helix Bridge
The Helix Bridge got its name from its design – it looks like a string of DNA.
The ArtScience Museum
This museum in the shape of a lotus flower consists of 21 galleries. Three of them have permanent exhibitions with the topics curiosity, inspiration and expression. The other galleries are used for frequently changing exhibitions.
Marina Bay Sands
The probably most famous hotel in the world is also a landmark of the city. Every time I see the gigantic rooftop terrace, it puts a smile on my face. To me it signifies the same as seeing the Frankfurt skyline – it means home.
On the rooftop you can find its world famous infinity pool, that is reserved for hotel guests only.
Located centrally on the terrace, you can find the bar C'est La Vie. Some kind of lounge during daytime, it turns into a restaurant in the evening. But be careful and respect the dress code! Shorts and bikinis are a not welcome here.
There is also a public area on the Marina Bay Sands terrace although it costs 23 SGD. However, I think this is money well spent as this is also the only place where you can watch the light shows in Gardens by the Bay and in Marina Bay from the top.
The Light Show in Marina Bay
Same as in the Gardens by the Bay, there is also a light show in Marina Bay. Every day from 8pm and 9pm you can enjoy the show. And if you want to be especially close, just take a walk through The Shoppes. With the majestic skyline in the background, water fountains are painted in a multitude of colors by the lights, accompanied by music.
From the other side of the bay you may not see the water fountains but the laser show from Marina Bay Sands makes up for it.
#3 Arab Street
Contrary to the name, Arab Street is not only a street but a whole district. All around the Masjid Sultan Mosque you can find streets that make up the most hipster area of the town. Here you can find the creatives and the party people. Bright colors, hand-woven Persian carpets and aromatic Arabian teas – that's the Arabian district in Singapore.
Sultan Mosque
The heart of the Arabian Street is the Masjid Sultan Mosque with nearly 200 years of history. This touristic highlight is perfect for learning about Muslim culture or simply enjoy the extraordinary atmosphere. Up to 5000 people can fit in the prayer room.
#4 Sentosa
In front of Singapore lies the small island Sentosa. It is an artificial island and basically a theme park. Numerous attractions are waiting for families and visitors that are looking to be entertained. I tried some of them but the only things that really convinced me were the beaches and beach bars. Even though you can see the huge container ships in the distance, I still found this to be an oasis.
Universal Studios
The Universal Studios are part of the theme park Resorts World on the island Sentosa. You can find 28 rides, shows, and attractions in seven different areas – each with a different topic.
Singapore Cable Car
I don't know about you, but I love cable cars! And it's also the best way to get to Sentosa. You can either walk over the pedestrian bridge, take a taxi, take the Sentosa Express, or said cable car. It is the most expensive way, but in my opinion worth at least doing once. You can take off from Harbourfront or Mount Faber.
Pro tip: The Henderson Waves are only a five minute walk away from Mount Faber station. So you can easily combine these two highlights.
Adventure Cove Waterpark
This theme park is all about water and offers fun for the whole family. There is an aquarium, water slide, a wave pool, you can go snorkeling and so on… I haven't been there yet but I will surely go there!
S.E.A. Aquarium
Since I condemn imprisoning animals, I did not go the aquarium. Nevertheless, I don't want to keep this information from you. Here you can find more than 100.000 sea animals from almost 1000 different species. 50 big pools offer you a glimpse into the underwater world.
The Crane Dance Light Show
The third and last light show of Singapore is on Sentosa. Each day you can find two mechanical cranes dancing and telling a story of love accompanied by water, light and music. I personally enjoy the other two light shows more but if you are already on Sentosa, why not have a look at the daily show at 8pm. After that, just take a stroll back to the Harbourfront.
The Beaches
Many people describe Singapore as a concrete block. I think that is a false depiction. Of course, the beaches are fake, at least on Sentosa, but still…. you can lie in the sand and enjoy a fresh coconut! What is there not to love about that?
There is a total of three beaches on the island – Siloso, Palawan and Tanjong.
On Palawan Beach there is a small suspension bridge, that leads to another smaller offshore island. Here you can find a lot of families with their children. A bit too crowded for my taste but at least the bridge is very photogenic.
Tanjong Beach is well suited for you, if you are looking for a quiet and relaxed time. It is relatively far from the metro station you probably arrive at. So you can take a taxi or a shuttle service, because it's a 30 minute walk and that can be rather exhausting on a hot day.
But once you reach your destination, you can relax. At the Tanjong Beach Club, you can find refreshing cocktails and if you're not in the mood for sand between your toes, just lie down at the pool.
#5 Chinatown
Even if that's not a popular opinion – I am no fan of China Town. There's no real reason, it's more of a feeling. Although I feel at home in most parts of Singapore, I don't have that same feeling in China Town. However, I still know my way around and can recommend you some nice spots.
Chinatown Complex Food Center
In Singapore, you can find so called Hawker Centers. Those are food centers where you can buy local cuisine for cheap prices. With 260 stands, the biggest and most famous Hawker Center is the Chinatown Complex Food Center. One of the stalls even has a Michelin Star. The most recommended dish is Chicken Rice and costs around one to two Euros. However, the cue in front of the stalls is sometimes extremely long, resulting in almost up to one hour of standing in line. 
Buddha Tooth Relic Temple
The Buddha Tooth Relic Temple was built in 2007. The rich interior architecture and the extensive exhibitions about Buddhist art and history tell a story of hundred of years of culture. In this temple you can find a shrine containing a tooth of Buddha (the left canine tooth allegedly). It was recovered from the pyre in Kushinagar, India, and brought here for exhibition and worshiping.
Sri Mariamman Temple
The oldest Hindu temple of Singapore is dedicated to the mother deity Mariamman and was built in 1827. This is the house of prayer for most Tamils and the Hindu population in Singapore. Due to its historical significance, it was declared a national monument in 1972.
#6 Nature Reserves & Parks
The reason why I love Singapore this much is that it combines all the advantages of a major city with a vast number of parks and nature reserves. They are within easy reach and you can escape the Hustle and Bustle of the city in a heartbeat. Let me list some of the most popular destinations. Sadly, I still haven't managed to visit all of them but I will be in Singapore a lot more often and definitely explore further.
MacRitchie Reservoir
The MacRitchie Reservoir is Singapore's oldest storage reservoir. It was built in 1868 in order to secure the supply of potable water. Nowadays, it is mostly used as a recreational area. Here you can go jogging, kayaking or simply relax.
MacRitchie Nature Trails
In the heart of Singapore you can find 11 km of trails around the MacRitchie Reservoir. It is easily possible to encounter several different animals on your journey such as macaques, monitor lizards, squirrels, flying lemurs, or owls.
You can choose between different paths to find the perfect distance for your walk. Road signs show you the way so you always know exactly where you are, how long it takes to your next destination and which alternative trails you can take. Remember to bring enough water as there is none to buy here.
The highlight of the MacRitchie Nature Trail is the next point on this list.
TreeTop Walk
The TreeTop Walk is part of the MacRichie Trail. The whole circuit, including the TreeTop Walk at the center, is about 7 km long. Sadly, there are no MRT stations close to the starting point, so you have to take a bus to the parking area at the entrance Venus Drive or take a grab or cab. From there, you can follow the signs.
On this 250 meter long suspension bridge you will have a wonderful panorama view of the rain forest, walking 25 meters above ground.
Bukit Timah Nature Reserve
Only 12 km from the busy city center is the Bukit Timah Nature Reserve, founded in 1883 and one of the first forest reserves of the country. It has a rich ecosystem, offering the visitors the possibility of marveling at numerous plants and animals of the region. You basically walk through primordial, tropical vegetation and experience Singapore as it was several decades ago.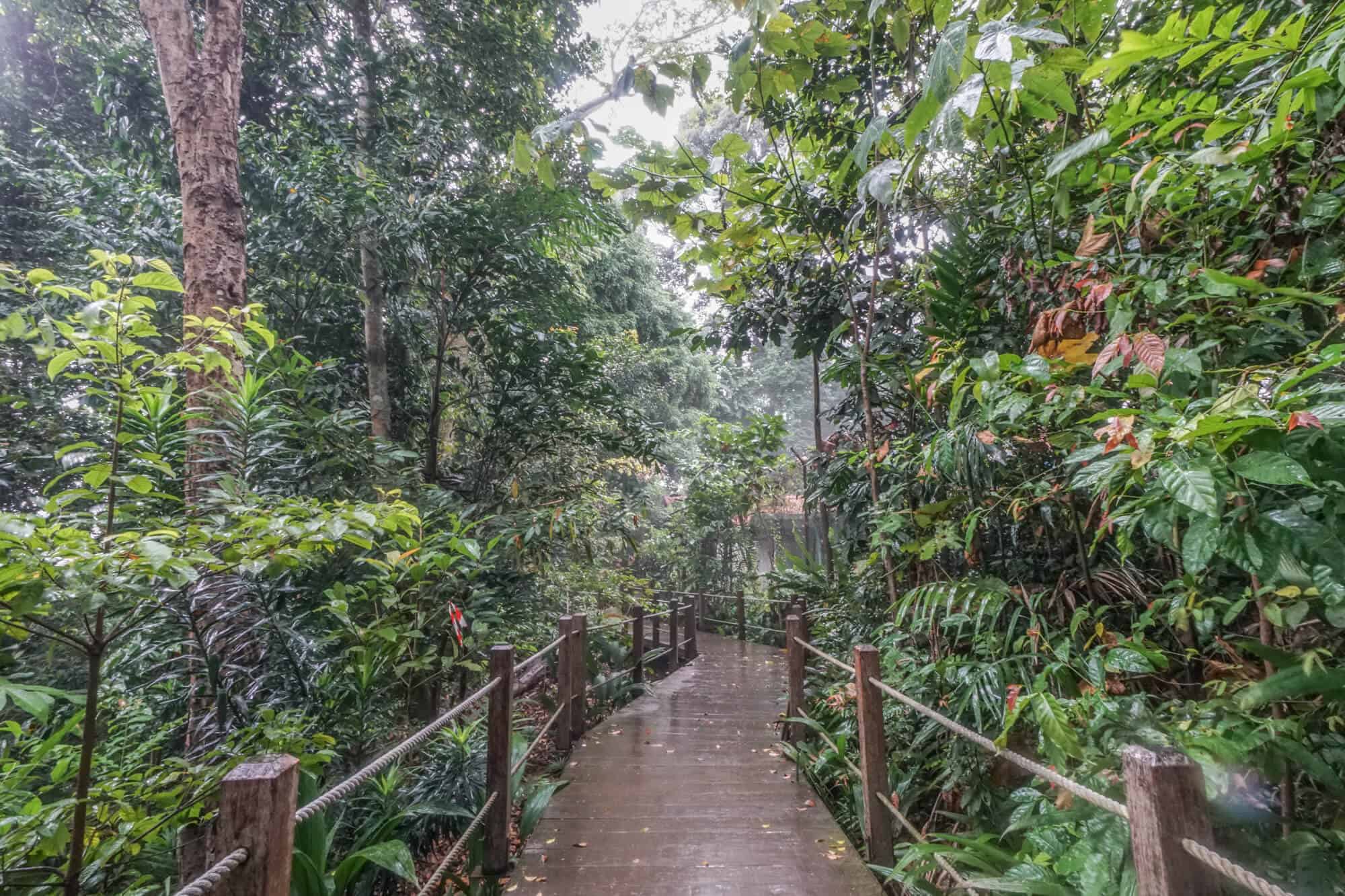 Pulau Ubin
Pulau Ubin is Malay and means "Granite Island" – and you can actually find old granite quarries on the island. It is mostly famous for being the last Kampong  (typical village in Singapore) that hasn't completely been urbanised and modernised. It is a trip through time, as allegedly this is what Singapore looked like in 1960.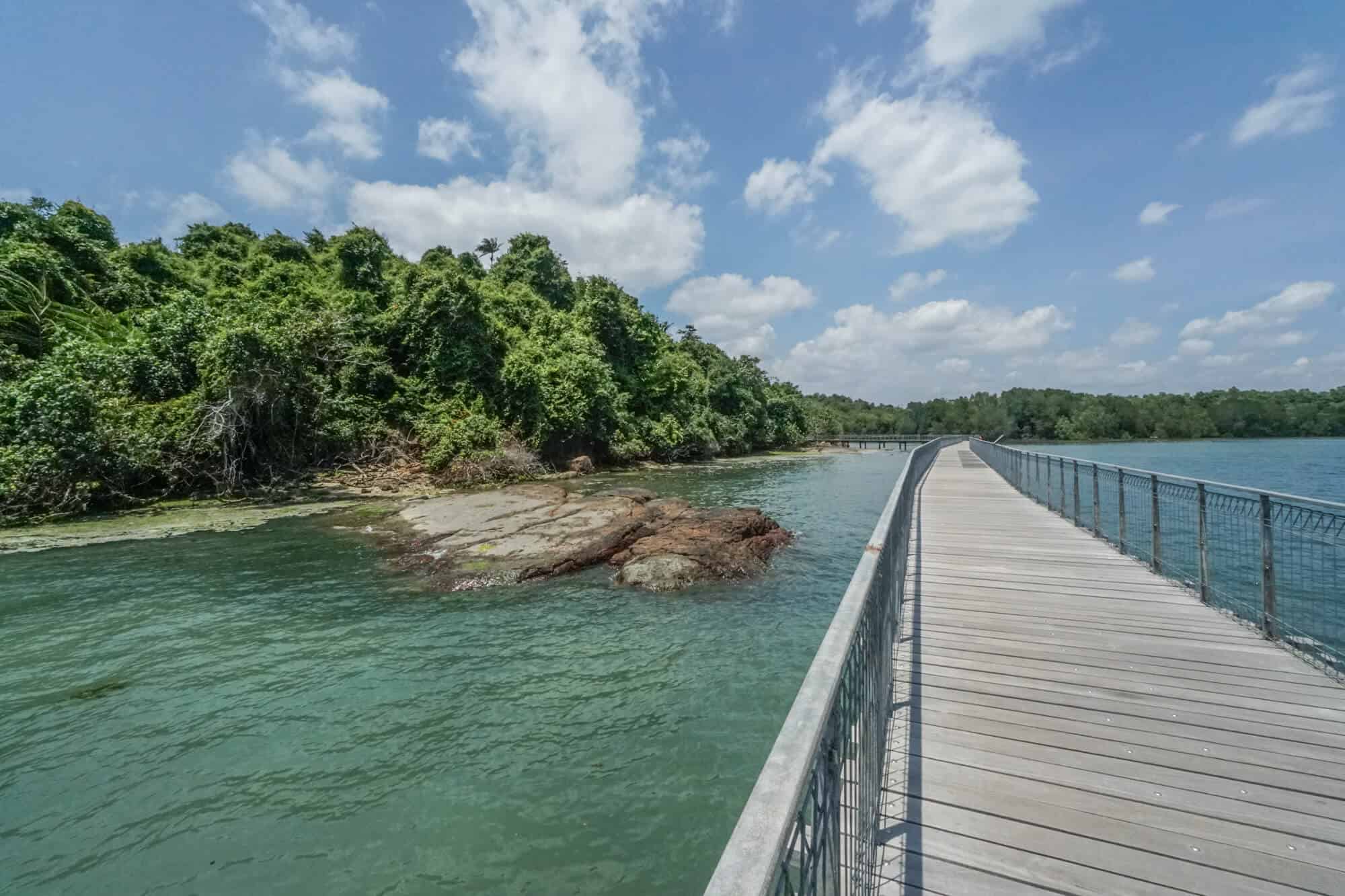 Pulau Serangoon aka. Coney Island
Coney Island or Pulau Serangoon is a 133 hectare island on the northern coast of Singapore between the already mentioned Pulau Ubin in the north east and the mainland in the south west.
The 50 hectare nature reserve includes coastal woods, grass lands and mangroves. Many Singaporeans come here for hiking or mountain biking. Also camping is very popular here. Sadly, I haven't visited the island yet, but it is still on my to-do list.
Southern Ridges
The Southern Ridges are a nine kilometer walk through lush vegetation – but in the middle of the city! The paths are separated into smaller units and you can start and stop your tour anywhere and anytime.
I started at the Alexandra Arch and made my walk over the Forest Walk. You really have to remind yourself that you are still in an large city. Otherwise, you can easily get the feeling you were teleported to the next rain forest.
The Forest Walk connects to the Hilltop Walk. And here comes the highlight – the Henderson Waves! The Henderson Waves are bridges that go in serpentines across the highway. You don't really notice the cars below, though. I actually only noticed once I went back to grab the bus and saw the bridge from below.
Botanic Garden
The Botanic Gardens are 158 years old and situated at the border of Orchard Road – the most famous shopping street in Singapore. They are marked as world heritage and the only place in Singapore listed at the UNESCO.
Since the gardens are easily accessible (the metro station is right in front of the entrance) and there is no entrance fee, many Singaporeans come here to find some peace. A picnic in the lunch break or walk after work… no problem.
Personally speaking, I wasn't too excited about the park. Maybe after Gardens by the Bay, Marina Barrage and co. I was expecting more. No jungle, no futuristic structures, no skyline… just a park with tropical plants.
As you see, Singapore has a lot to offer! I really can't understand how some visitors claim two days would be enough to experience it. Hopefully, I was able to show you just how divers this country really is. 
Which of these spots in Singapore fascinate you the most? What would you love to see? If you've already been to Singapore – what did you like the most? I'm looking forward to your comments!
Newsletter
Subscribe to my newsletter so I can keep you posted about my life of travels and as a digital nomad! You will never miss a new blog post, a new ebook or where my next adventure is going to bring us. Because it's never going to be boring!