Ras al Khaimah – 8 Things to do in RAK
During my stay in Dubai, I was invited to go to the neighbor Emirate of Ras al Khaimah, or simply RAK. I had already read about this Emirate on a blog of a friend, which is why I was really happy about the invitation.
In my opinion, it's a perfect place for a getaway for nomads based in Dubai or staying there for a few weeks.
How to get to Ras al Khaimah?
If you're in the bigger Emirate Dubai – like I was – or in Abu Dhabi, it's pretty difficult to get to Ras al Khaimah by public transport. There is no shuttle or such thing, not even from the airport. I heard of a bus, but it is not going often (like once a day) and people simply don't take it. I couldn't even get more information about it.
So, you have two options:
Take a taxi (250 AED – a bit more than 60 Euro) or
Get a rental car
I got a rental car and drove there from Dubai. The two Emirates are connected through the highway E311, which is an easy drive of just one hour as long as you don't choose to go during rush hour. Then you have to calculate approximately 30 minutes more due to traffic jams.
About Ras al Khaimah
Ras al Khaimah is the northernmost Emirate and borders the Omani exclave Musandam. It's one of the more traditional Emirates since it has a larger local population. Almost 40 percent of the people living here are Emirati. This is why you should be more aware of local traditions than in Dubai or Abu Dhabi where people are more easy-going with the Western lifestyle.
What to do in Ras al Khaimah?
This Emirate is mostly known as a weekend getaway for people from Dubai or other Emirates. Foreigners coming here to enjoy the beach and the great weather in Ras al Khaimah. But since I'm not the kind of person spending the whole day on a sun bed, I went on a few trips. Here is my ranking: 8 things to do in Ras al Khaimah!
#1 Fun at the Via Ferrata Jebel Jais
Via Ferrata (Italian for "iron route") is a cool concept that started in Switzerland in the Alps as a protected climbing route. It's basically a steel cable that is fixed to the mountain to secure the climber.
Today, a Via Ferrata is a mix of climbing, canyoning, and zip-lining. And most of all it's a lot of fun.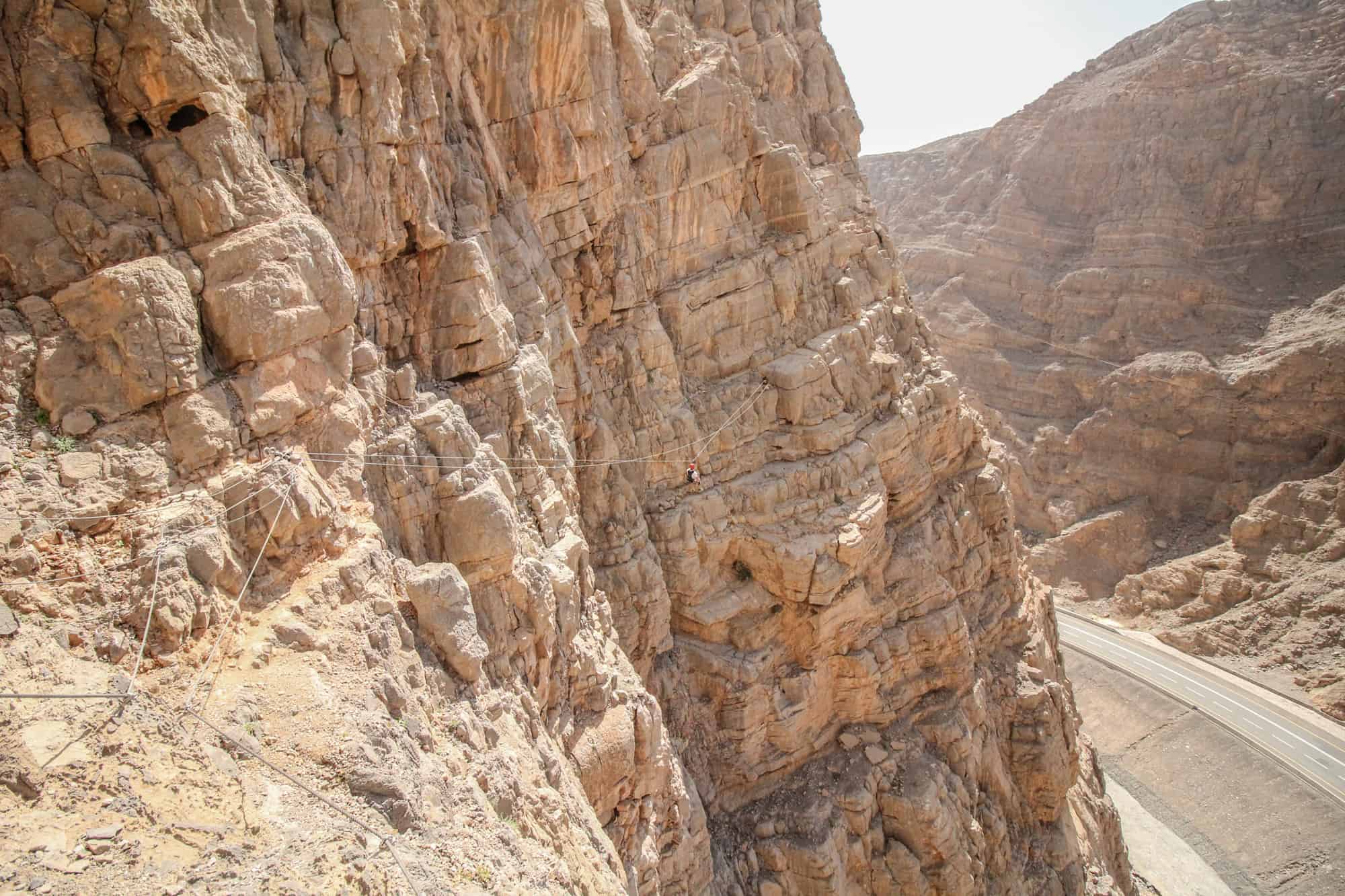 The Via Ferrata Jebel Jais is approximately 90 minutes by car from the city of Ras al Khaimah.
#2 Visit the Dhayah Fort
The Dhayah Fort is located a little bit outside of the city of Ras al Khaimah. It's the last remaining hilltop fort in the UAE. 242 steps lead to the top. But don't be fooled: It can be pretty exhausting in the heat of the country!
#3 See Al Jazirat Al Hamra – the Ghost Town of Ras al Khaimah
The old fishing village Al Jazirat is now abandoned. It's like an open air museum, but without entrance fees and audio guides. You can simply drive through this ghost town.
It was established in the 14th Century and abandoned in the 1960's probably because people left for Abu Dhabi in search for a better life. If you want to read more about the ghost town, click here.
#4 Learn About Falconry
Falconry is an ancient tradition of the Bedouins and an indispensable tool for hunting in the tough conditions of the desert. When the falcons came on their migrations to the Emirates every Bedouin caught one falcon that would be his partner during the whole season. More than that: The falcons became part of the family.
When it got too hot in summer and the free-living falcons started to fly back to the North, the Bedouins let their falcon go. Every year, the Bedouins would do the same thing: Catching a falcon, taming him during a period of 4 to 6 weeks and then – once the bond was made – go hunting with him which was essential for the families to survive.
I went to a falcon show at the Al Wadi Desert hotel. The show is NOT about keeping animals in captivity for fun. You are not allowed to pet the raptors or play with them. They show you how the Bedouins caught the falcons in former times and they trained them.
#5 Go to the desert
When I was in Ras al Khaimah, it had been raining before. That's why I saw something special: The desert was covered with green grass!
If you're keen on an adrenalin pumped desert adventure, you can go on a dune bashing trip. I did on in Dubai and had a lot of fun! You can read about this tour here: Dune Bashing and Sandboarding in Dubai.
#6 See One of the Oldest Mosques of the Emirates
In Ras al Khaimah you can see one of the oldest mosques of the countries. It doesn't even have a minaret. The imam had to step on this platform that you can see on my photos and prey from up there to make people hear him.
#7 Eat a Typical Local Meal
I went to a place called Al Fanar. They offer typical Emirati cuisine. My personal highlight was the ice cream made of camel milk!
But it's not only the food! The place itself is just spectacular and everywhere you can see how the Emirates looked like before they became a tourist place.
#8 Do What Everybody Does: Go to the Beach!
At the end of your stay, just enjoy the beach and relax with your feet in the sand.
Where to Stay in Ras al Khaimah?
During my stay, I was accommodated at the Hilton Al Hamra. It was a great hotel although I don't think it's worth the five stars. I was pretty disappointed with the service. If you want to stay in an amazing resort in the heart of the desert, check out the blog post of my blogger friend Aneesha about Alma Retreat!
Do you want to see other places to stay?
Then check out Tripadvisor, Airbnb or Hostelworld!
PS: I got invited by
RAKTA
– the Ras al Khaimah Tourism Development Authority – but my opinion is my own.
Newsletter
Subscribe to my newsletter so I can keep you posted about my life of travels and as a digital nomad! You will never miss a new blog post, a new ebook or where my next adventure is going to bring us. Because it's never going to be boring!