Copenhagen – 7 Things That Make the Danish Capital Unique
Copenhagen blew my mind!
Probably that was because of my expectations – as always. Friends told me that Stockholm was so much nicer and simply no comparison to Copenhagen. So I prepared for a weekend with only a few photos.
But in the end, it was the exact opposite.
And before I start: Unfortunately, I had no time to visit anything in the surroundings. But my blogger friend Megan did! So check out her post about Udense to see where you can go for a weekend get-away!
Here are my 7 reasons why the Danish capital is more than worth a visit.
 #1 The most beautiful boat trip during sunset!
Ok, I admit: I am in love with boats! That's why I loved Coboat, the Nomad Cruise and the boat trips in Stockholm.
And I was super lucky with the weather and the time. Because technically I did a normal Sightseeing Tour by boat. No special sunset tour. I arrived so late to the harbor that I had to take the last boat. My bad mood about this changed immediately when I realized that the light was perfect for photos: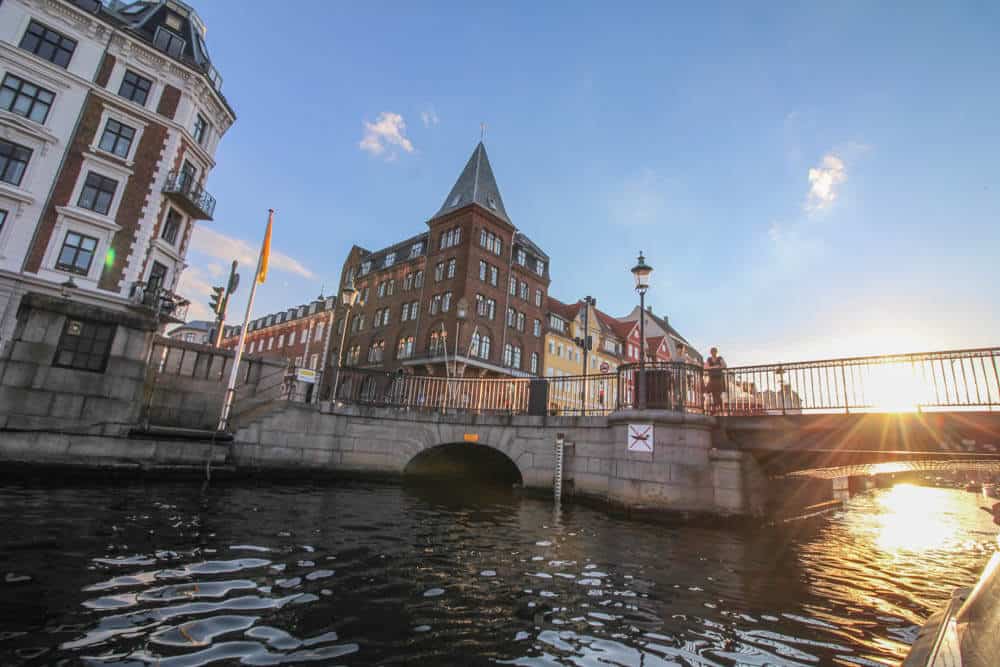 Can you understand why I was so happy?
 #2 In Copenhagen there is a part of the city that doesn't belong to the EU: Christiania!
I don't know what you think, but I couldn't believe it when I heard about it. Just when I saw the sign "You are now entering the EU" I understood that it's true at least in parts.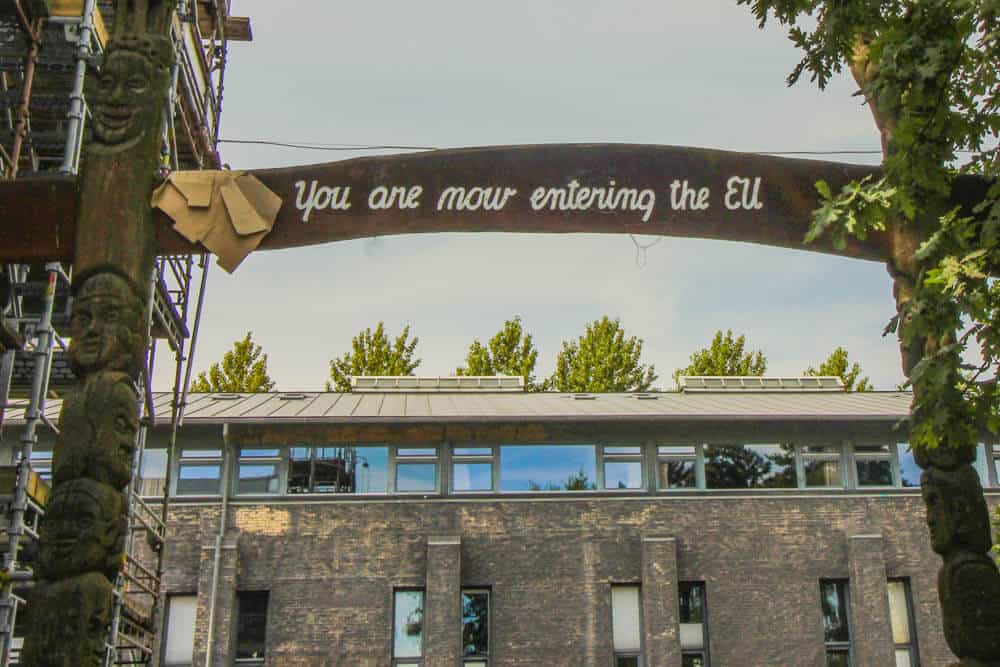 The Freetown Christiania is super picturesque and you feel like the whole neighborhood has fallen in a bucketful of paint. Or even better: as if somebody had put an Instagram filter over it to create a whole new atmosphere.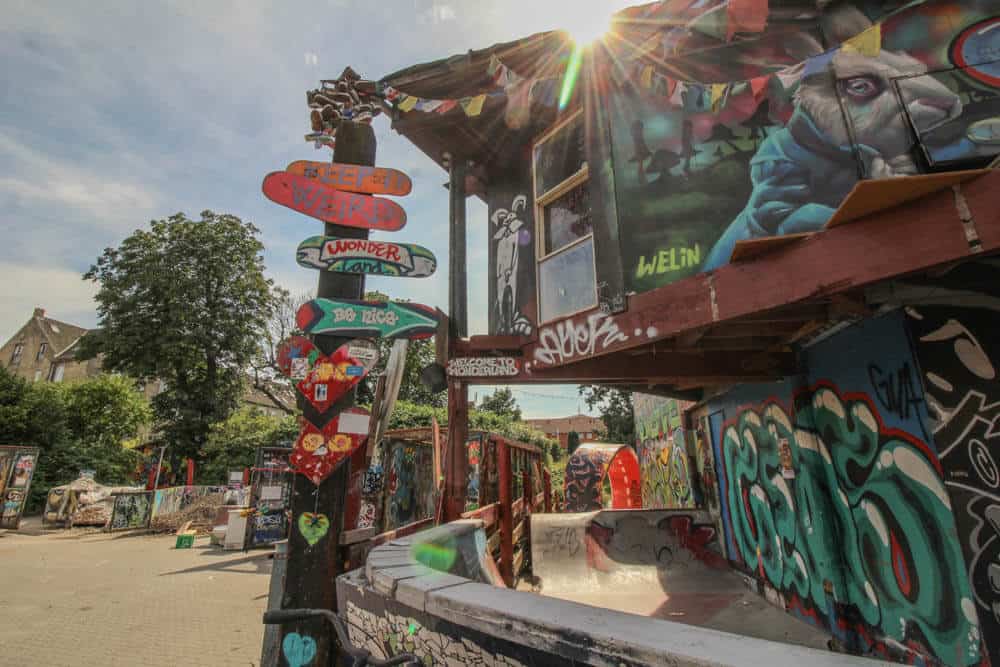 It's a self-proclaimed autonomous neighborhood, where 850 residents live their own way. Christiania is mainly known because of Pusher Street (or Green Light District), where they sell and consume cannabis.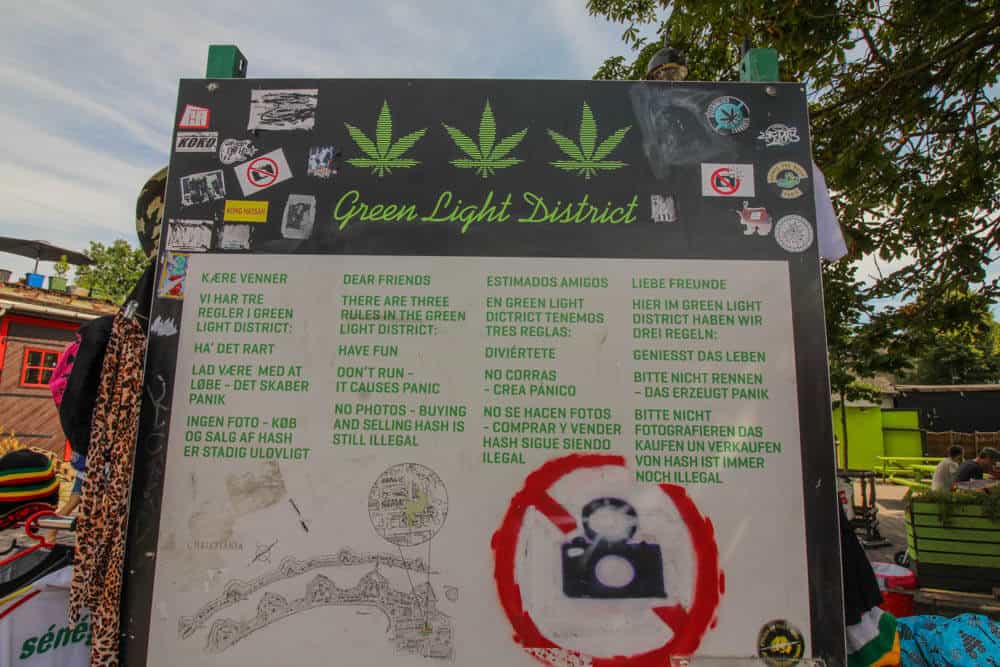 Although hash trade is illegal as well in Christiania, selling and consuming it in this street is tolerated. As you can see on the photo, taking photo is not allowed here. People from Christiania take this super seriously. I had my DSLR switched off, but still around my neck when somebody came and asked me to put it in my backpack: for my own safety. They don't seem to be people to be trifled with!
But it was definitely a unique and interesting experience!
#3 Where else can you climb outside on top of a tower?
When I saw the photos I knew: I NEEDED to go to that church! I saw it during the sightseeing boat tour: the golden in the sunlight shining tower of the Church Of Our Savior or in Danish Vor Frelsers Kirke.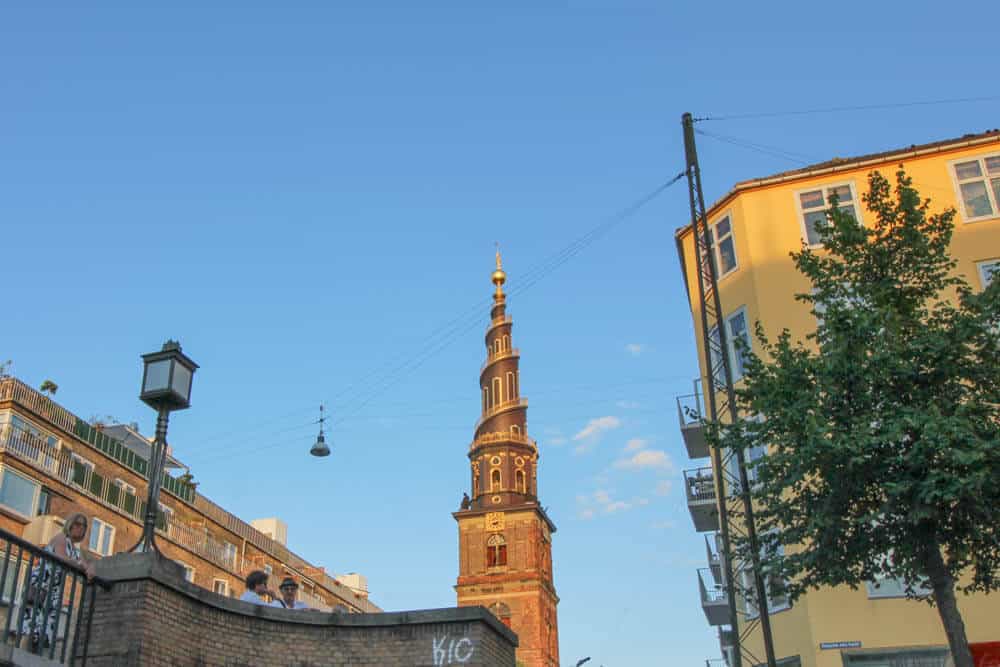 It seemed small to me…
Is it really possible to get up there?
No wonder that this church was the first thing that I wanted to see in the next morning. My accommodation was right on the other side of Copenhagen, So I took the bus and the metro. You can buy the tickets for public transport easily with an App: No wasting paper, time or not understanding the machines…
Only a limited amount of people is allowed to climb to the top at the same time. I needed to wait at the entrance. I was waiting at least 15 minutes in line and had to pay around 5 Euro to get up. Is that really worth it?
Have a look: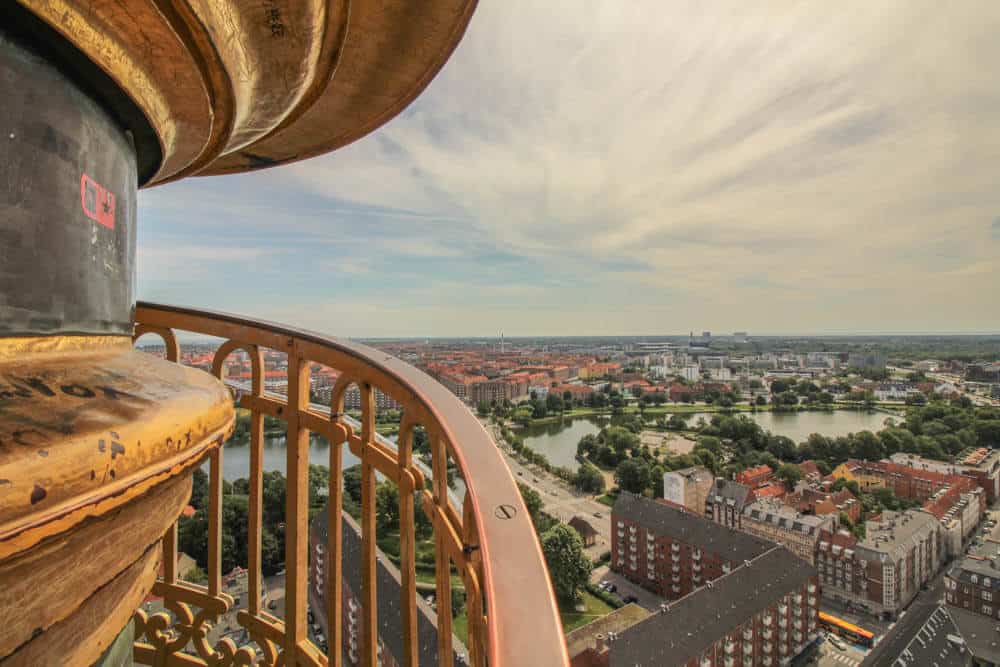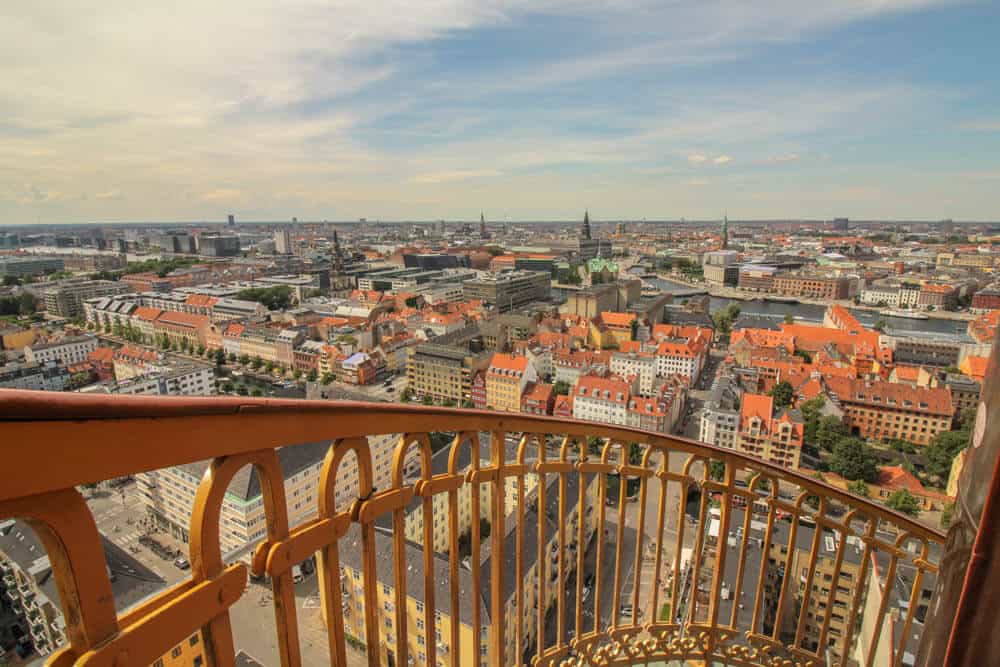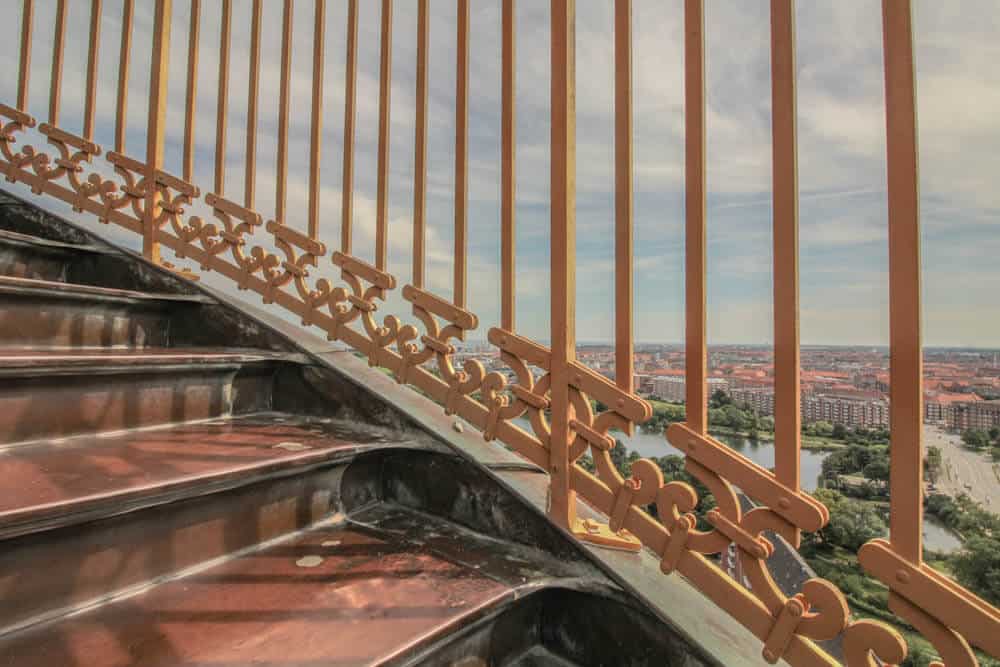 What do you think?
#4 The Little Mermaid – Which Other European Statue Got That Famous in the Whole World?
When I was searching for the must sees in Copenhagen I found out that many travelers recommend to not go to see the Little Mermaid. It's kind of an anti sight.
The same thing happened to me in Rio, where people told me to skip the Statue of Christ. Although I didn't really liked being on that small platform with so many people and not being able to take at least one decent selfie, I was still happy to be able to decide myself if I liked it or not. So no choice for me: I wanted to see the mermaid!
We already went past her with the boat. Unfortunately it was not a good angle to take a nice photo.
That's why I decided to take the bus from Christiania. Being only 125 Centimeters high the Little Mermaid, known of Hans Christian Anderson's fairy tale of the same name, is one of the smallest monuments in the world. Unfortunately the statue was damaged several times: Parts of the body have been sawn off – even her head! – and in 2003 she was knocked off her rock with explosives.
This is how she looks like from the other side: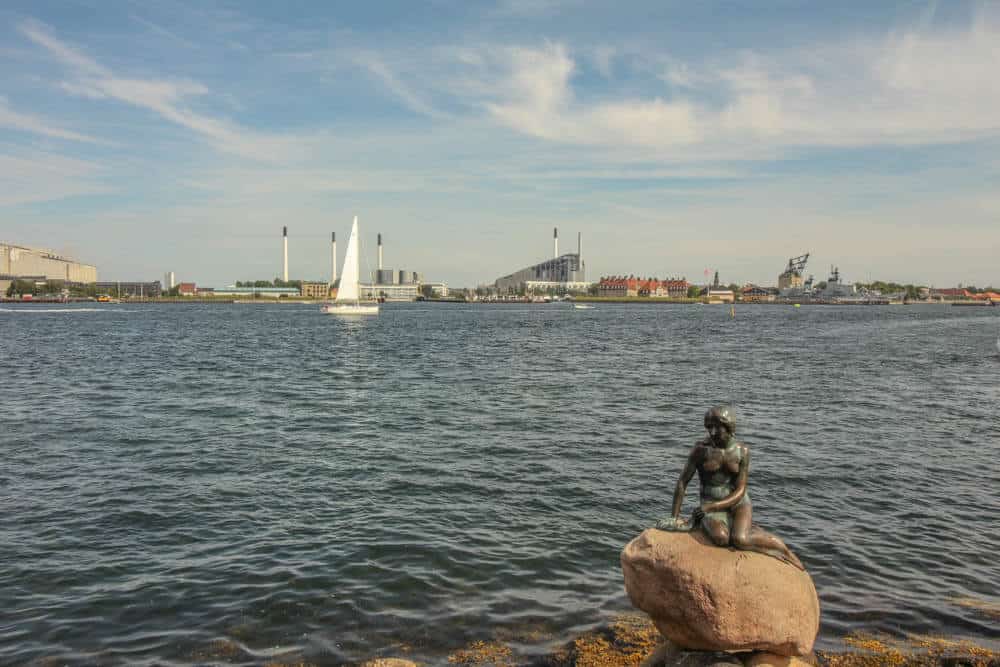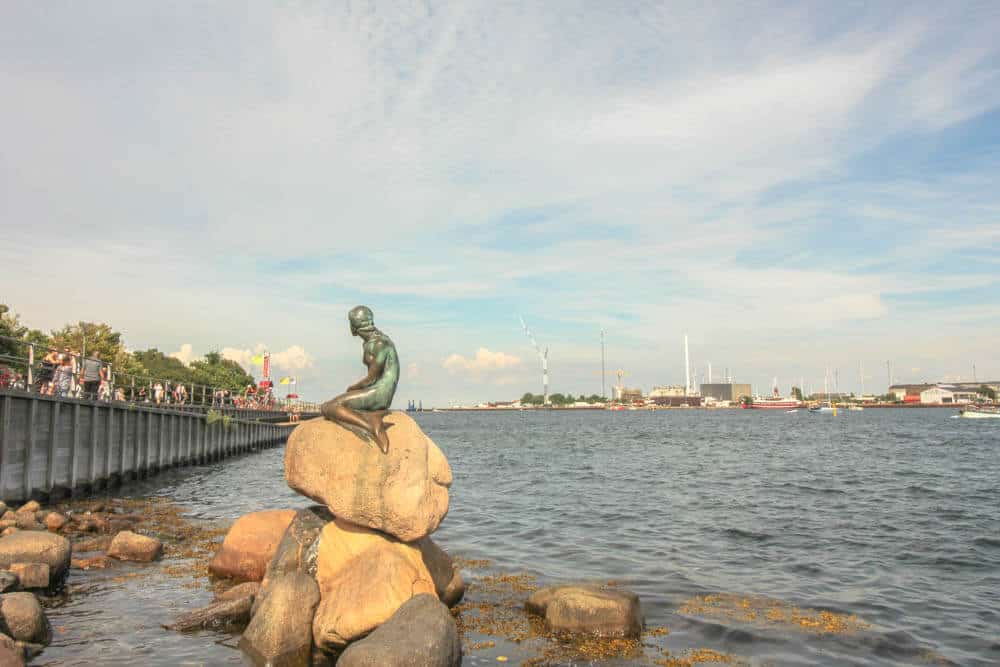 #5 Enjoy Copenhagen's Atmosphere in one of the many parks!
Ok, when I was in Copenhagen the weather had gone crazy. More than 30°C. No wonder that people were lying under the trees in the shade to finally stop sweating.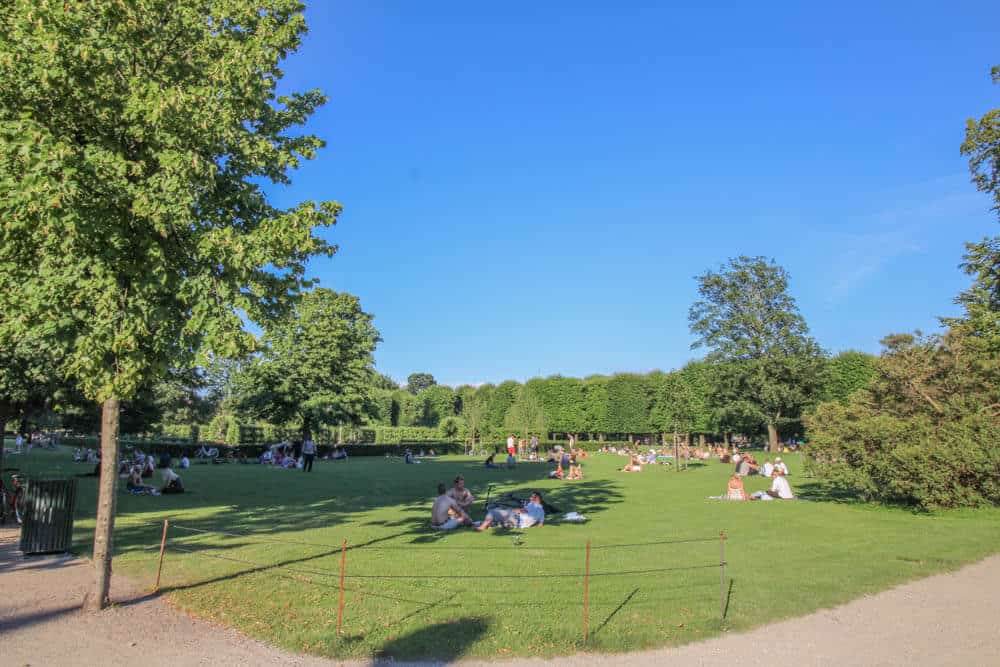 But when I was talking to locals I realized: Parks are very famous in general. This is where everything happens.
My favorite park was the one around the fortress of Kastellet. On island with the shape of a star, you enter the park over bridges.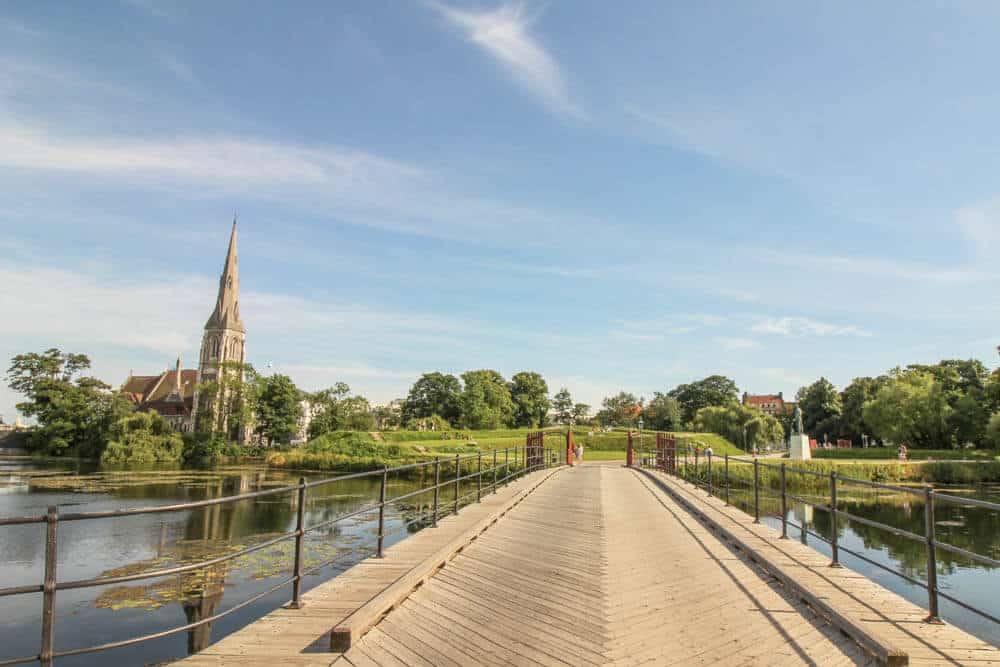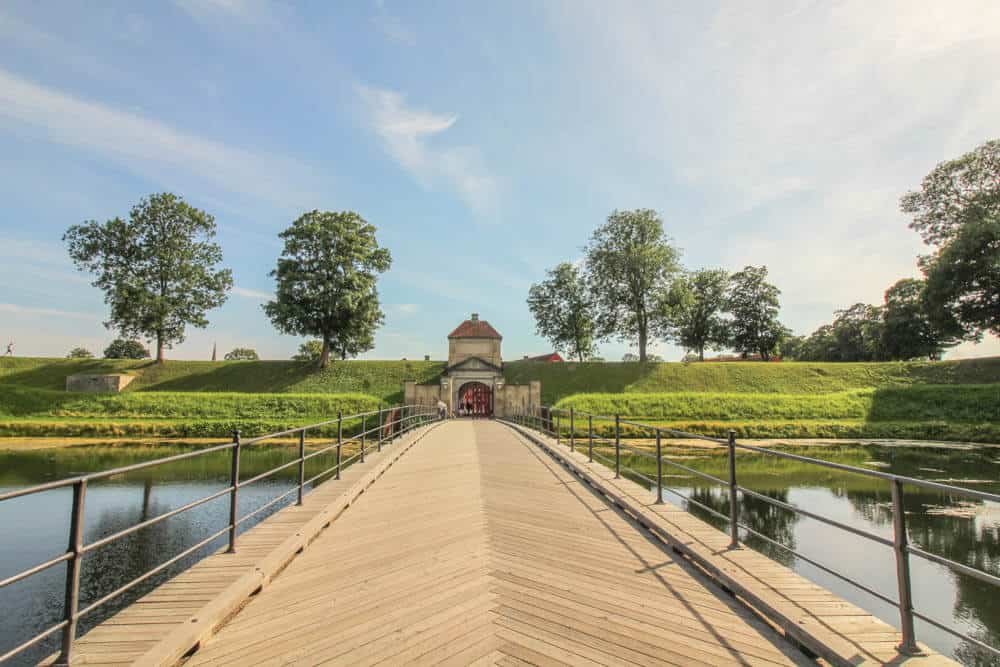 Doesn't it look like from a fairy tale?
 #6 No Other European City is so Cool for Strolling!
From day 2 I took public transport. In the first evening I wanted to walk around though. I wanted to stretch my legs and move after a whole day working on the computer.
My conclusion? I fell in love with the streets and houses!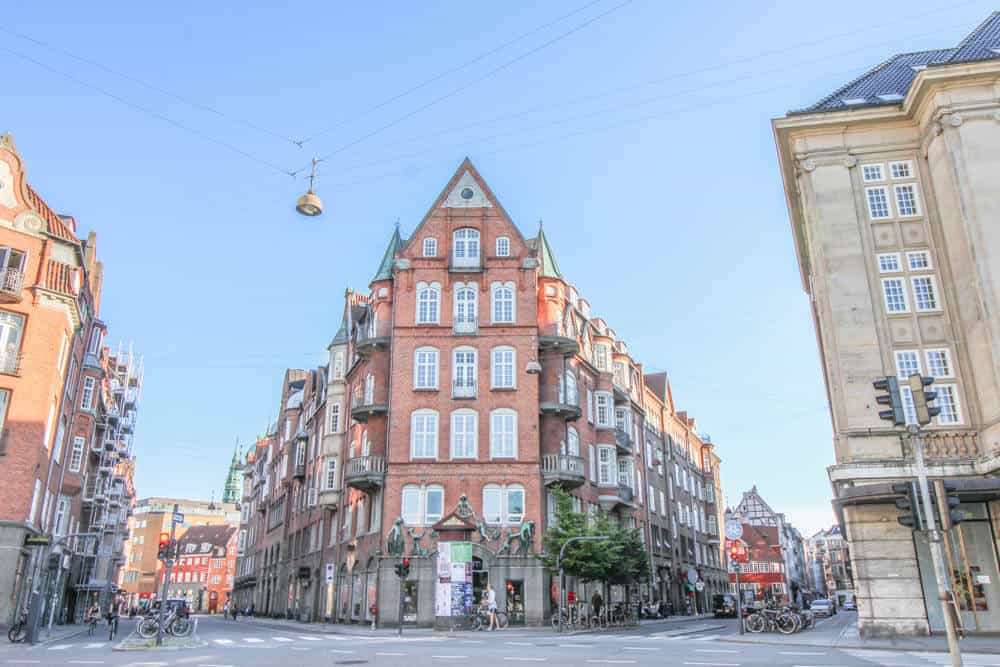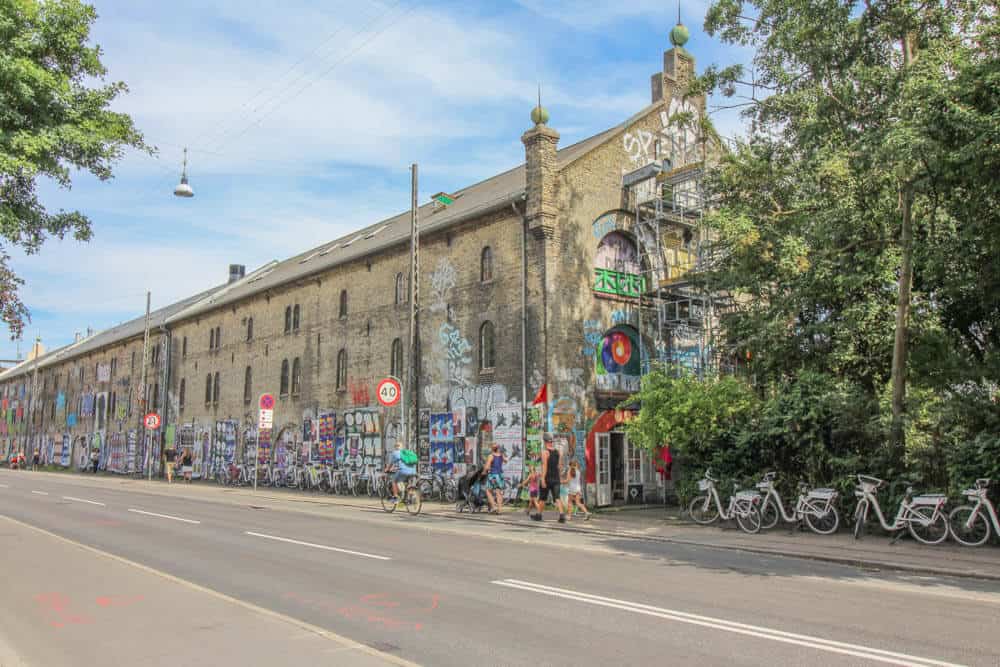 And I enjoyed watching the people riding their bicycles in the summer sun.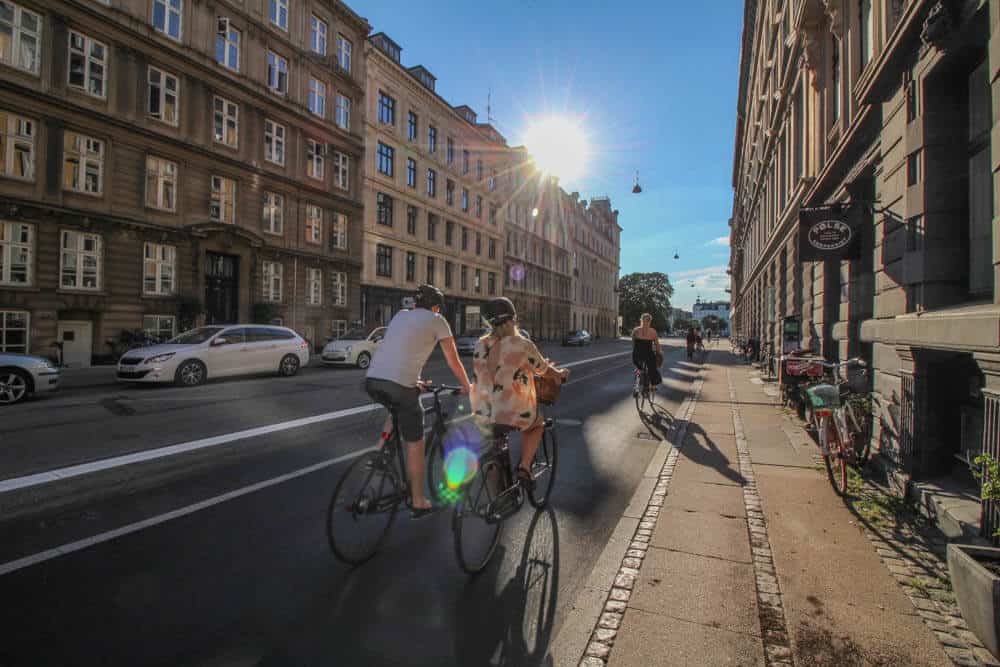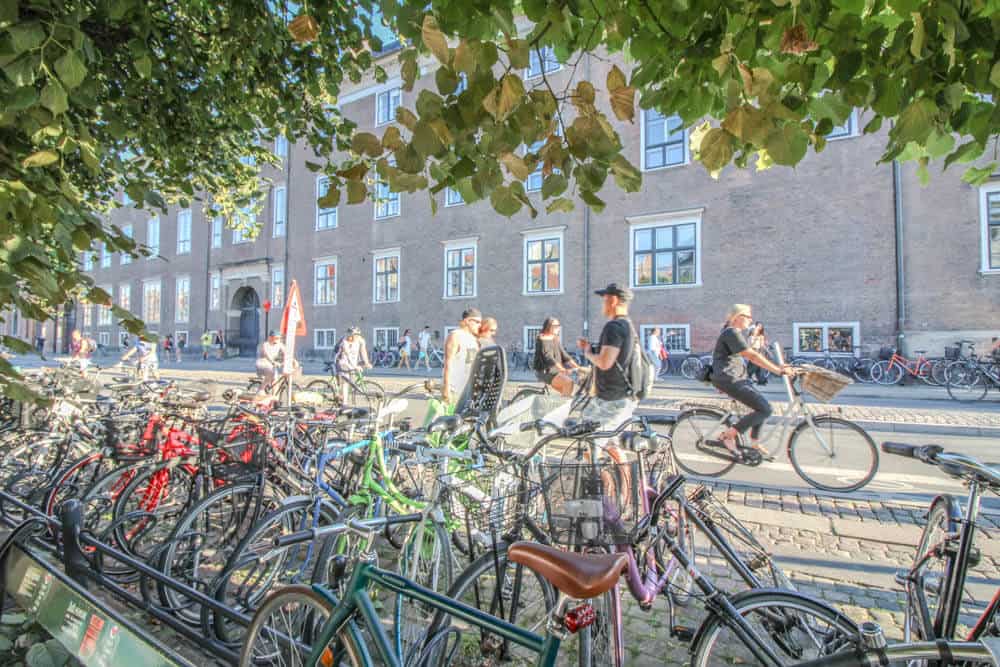 Just walk around, close to the water, and enjoy yourself!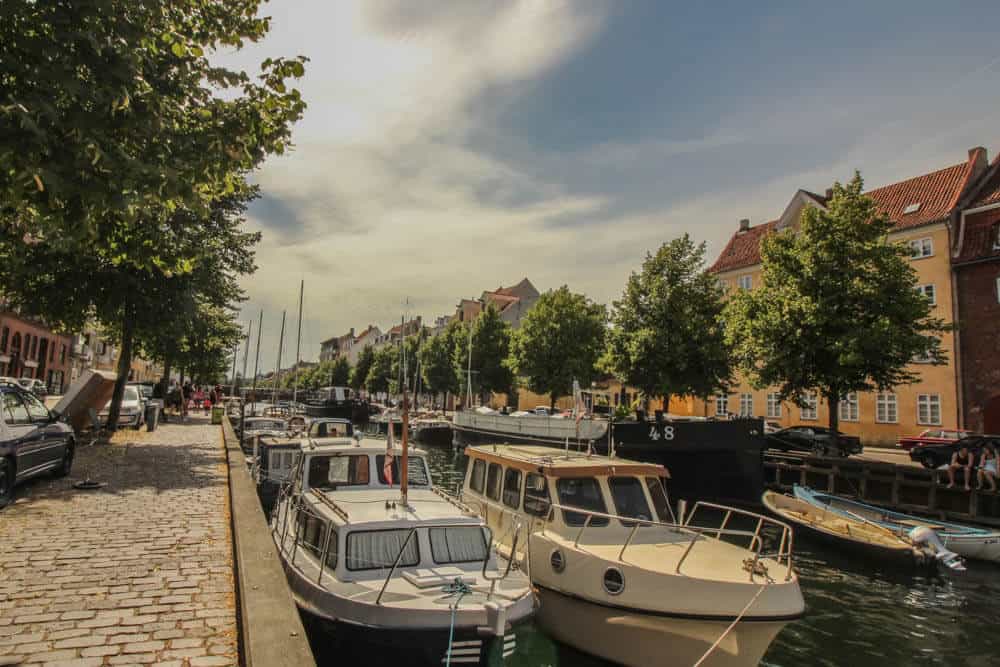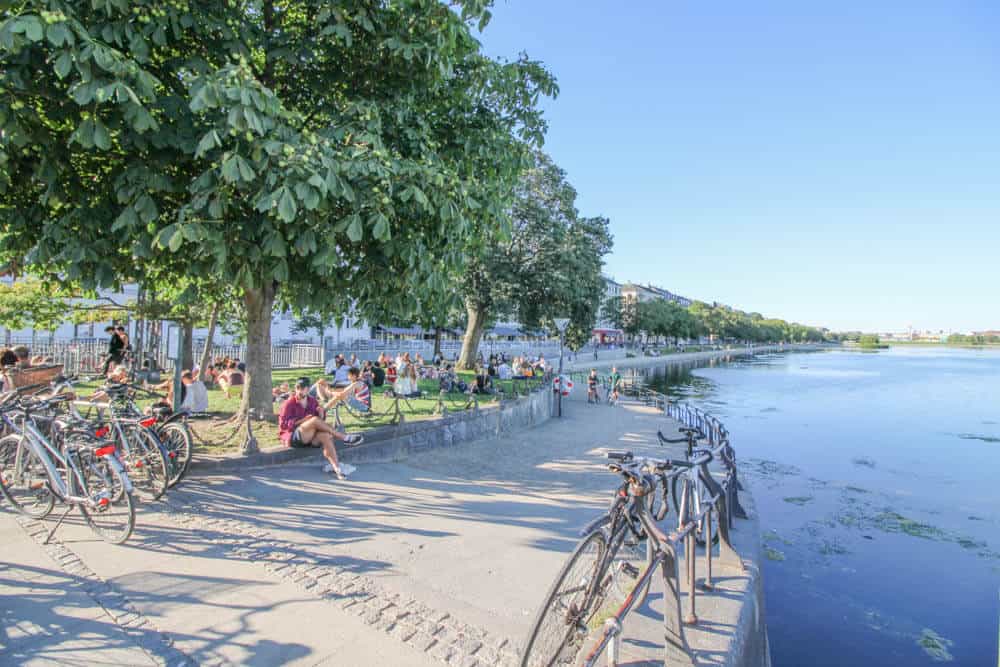 #7 A Cemetery as a Meeting Point for Teenagers? In Copenhagen that's normal!
In other places people avoid cemeteries. Not in Copenhagen where people meet here to enjoy the sun, listen to music or have a picknick.
In the moment that sounded horrible to me and couldn't believe that the locals really wanted me to go to the cemetery to relax. But when I was there, I immediately realized: There is a loooot of free space, many trees that give shade and it's super quiet… This is making the Assistens Kirkegård the perfect spot to meet for young people.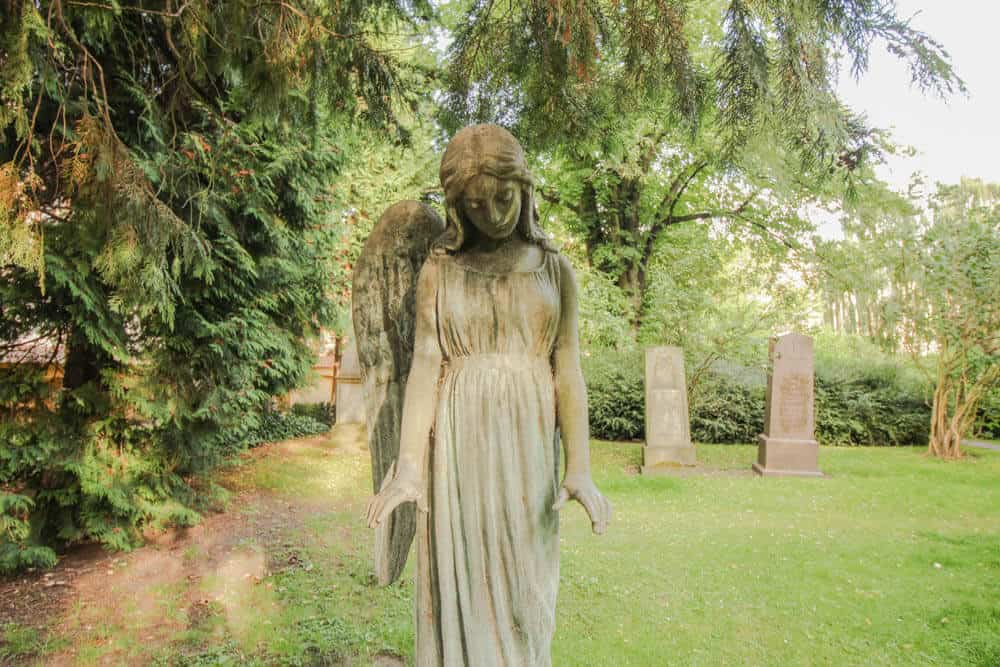 The highlights are the graves of Hans Christian Anderson, Søren Kierkegaard and Nils Bohr. I was surprised to see that their graves aren't bigger or more decorated than all the others. I didn't even find them all!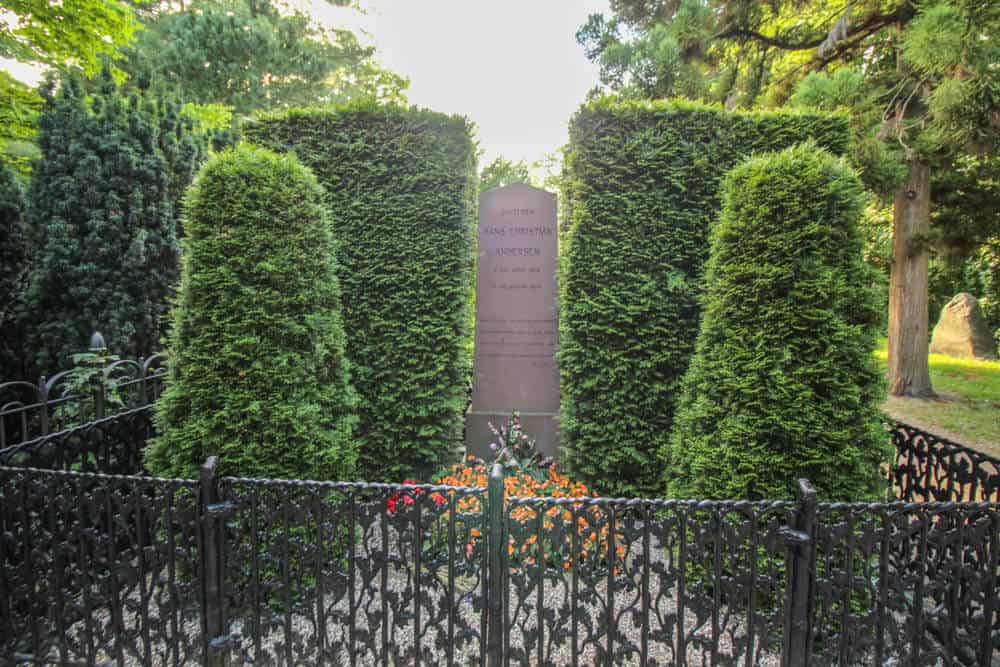 I really liked those two: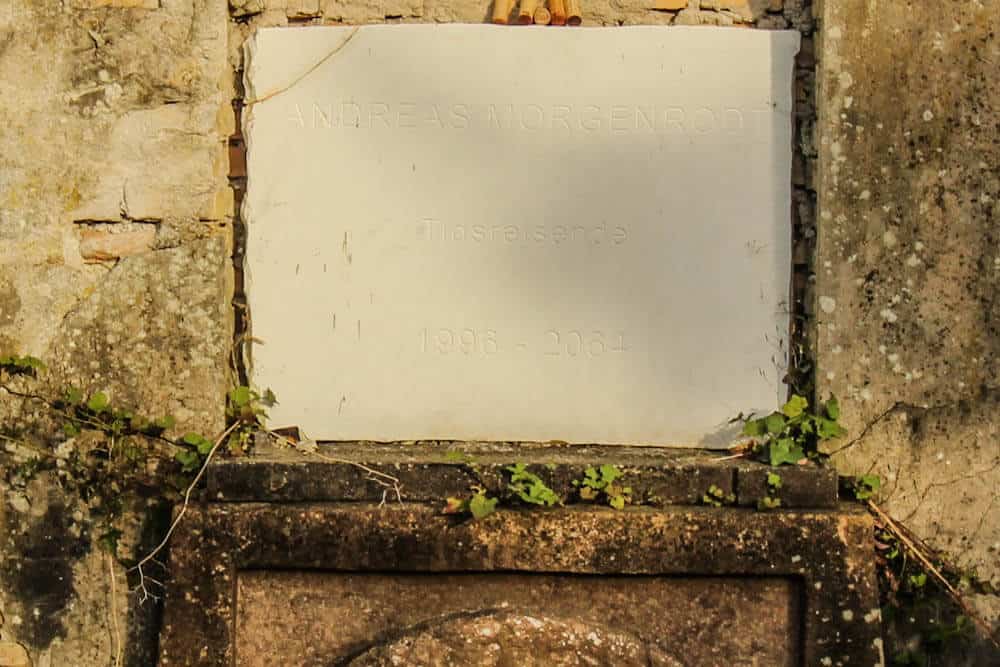 I love what the grave stone is saying: "Not pursuing your dream is a violation against those who cannot even dare to dream". It made me think of my life!
The white grave stone says "Tidsreisender" and even without knowing any Danish I understood that it means "time traveler". As a traveler myself I felt strangely close to this time traveler and was wondering about the meaning.
The graveyard made me think and reflect twice. I didn't expect that but I liked it.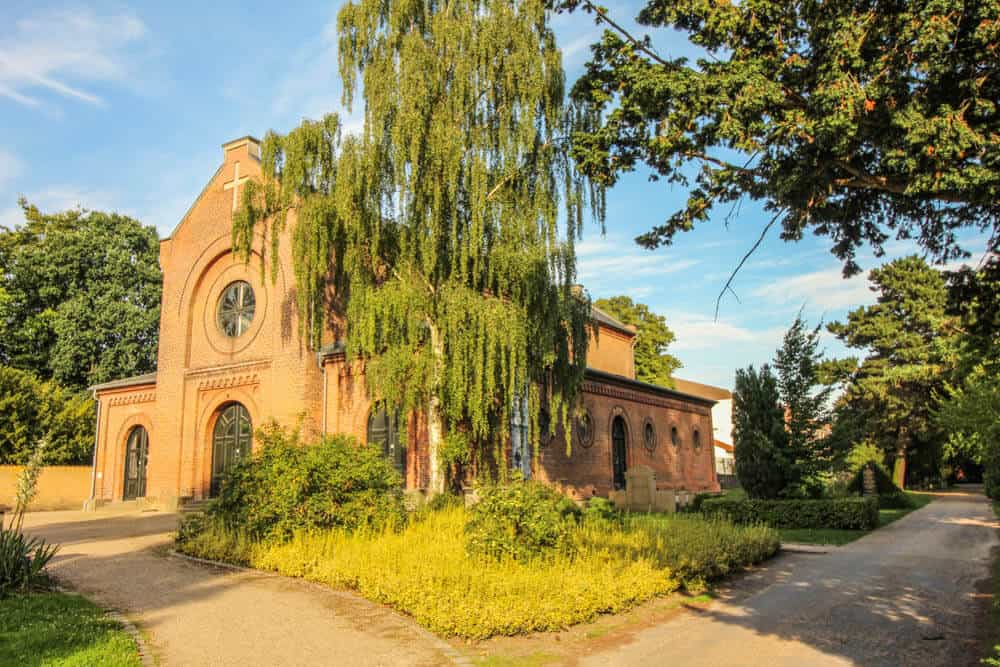 Those were my 7 things that make Copenhagen so special and unique. I hope that I'll have another chance to get to know this fascinating city better.
I was staying at nomad friend's place, but if you want to see some places to stay, check out Tripadvisor, Airbnb or Hostelworld! There is something for every budget!
Have you ever been to Copenhagen? What did you like most? Tell me about it in the comments!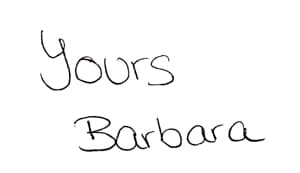 Subscribe to my newsletter so I can keep you posted about my life of travels and as a digital nomad! You will never miss a new blog post, a new ebook or where my next adventure is going to bring us. Because it's never going to be boring!