Vipiteno – At The Idyllic Doorstep to Italy
Vipiteno is located in South Tyrol directly behind the Austrian border when you cross the Brenner Pass and is the northernmost town in Italy. I have been there regularly for a good 25 years. The reason for this is its ideal location. Because when I was little, we – that is, my parents, my brother and I – used to drive to Sicily every year by car, where my mother came from, and Vipiteno is perfect for a first stop on the way to the south of Bella Italia. But why you should spend more than just one night here, I'll show you today:
Vipiteno – The Facts
Vipiteno has an incomparable charm – regardless of the season, it enchants its visitors. Even though I know the alpine town especially in the warm season, because we usually made a stop here when we went to Venice in May, to Verona in August or to Palermo in October, I assure you that the place is worth visiting at any time of the year.
Framed by the mountain panorama, picturesque shopping streets await you in one of the most beautiful old towns of the country with medieval churches and squares.
You love sports? Then go hiking on the Rosskopf, golfing on the golf course or skating in the ice rink. The high ropes course ensures fun and a high adrenalin level. Even though I now love to put on my hiking boots (which I did here), I am still more on the side of culture enthusiasts: The gothic churches and medieval castles leave me with a feeling of astonishment and reverence.
The good thing about Vipiteno? Here you can combine everything! So you have the perfect mixture.
Vipiteno – How to Get There
By train: Vipiteno has a railway station. You can get there via the Brenner/Brennero stop by changing trains.
By bus: From Innsbruck, for example, Flixbus takes you directly to Vipiteno in about 50 minutes. Prices start at 5.99 euros and there are three to five Flixbuses a day. This is certainly the cheapest alternative for a trip to Vipiteno.
By car: By car you can easily reach Vipiteno from Austria via the Brenner motorway. After you have crossed the border, you have to take the second exit. You can also take the first exit "Colle Isarco" and then follow the road along the river Eisack (Italian Isarco) to Vipiteno. If you choose this option, you will avoid the Italian motorway toll.
Vipiteno – My Highlights
Hiking
Vipiteno, with its location in the South Tyrolean Alps, is a wonderful place for hiking. All around there are numerous hiking trails of every level of difficulty, making it suitable for young and old, young and old.
For example, the ride in the gondola up to the Rosskopf is recommendable. Up there, you can do everything your outdoor lover's heart desires: hiking, mountain biking, stopping for a bite to eat.
I myself wanted to walk the Trenser Höhenweg with my father and my brother. The circular path leads over almost six kilometres from the pilgrimage church Maria Trens to the castle Sprechenstein and back again and is supposed to take about two hours.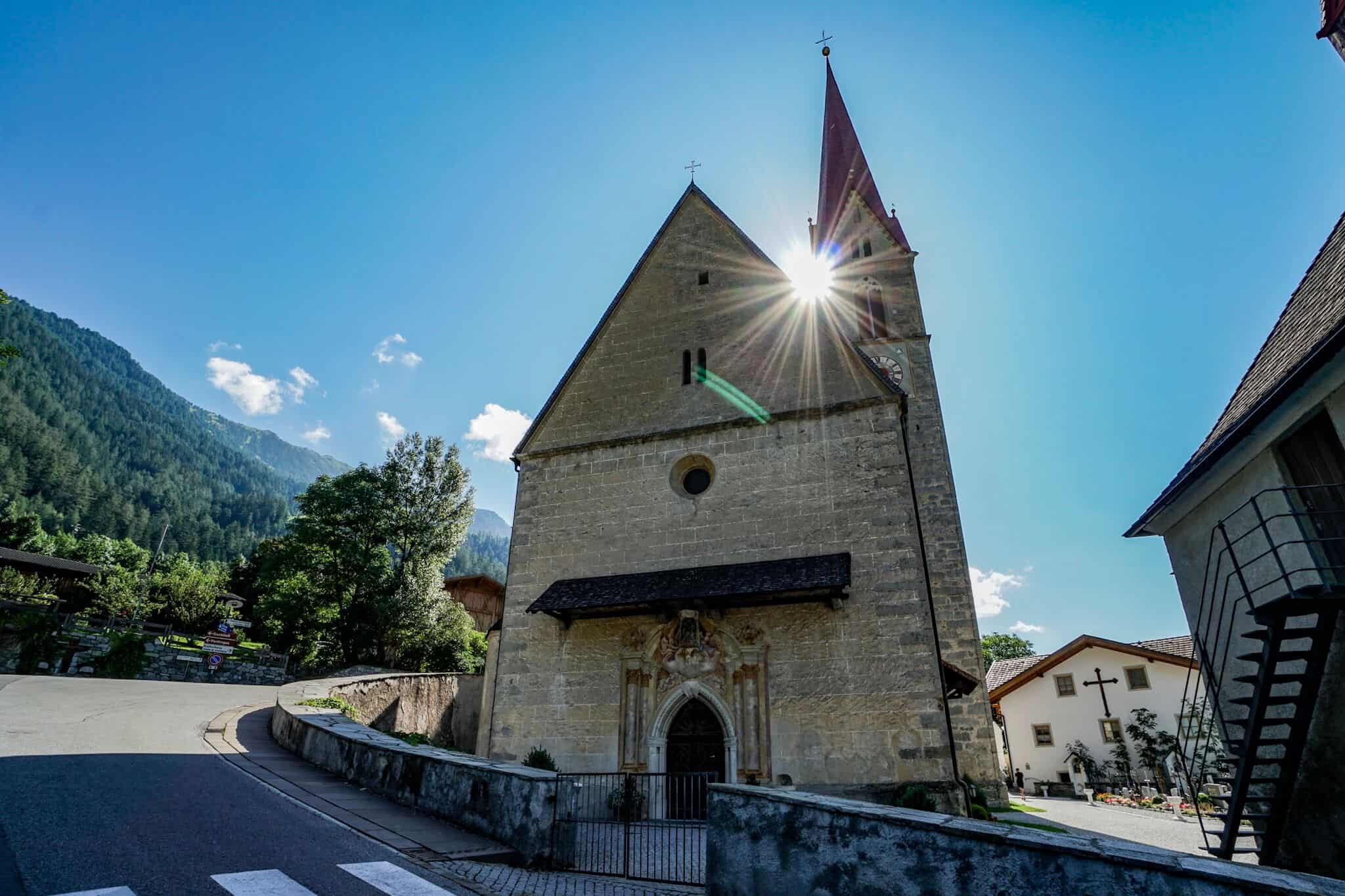 Maria Trens is, by the way, after Maria Weissenstein, the most famous place of pilgrimage in South Tyrol. Its popularity dates back to the 14th century.
The trail is steep and partly leads over unpaved paths through the forest (attention: due to damp mud it was very slippery in some places), but in general I found it absolutely feasible and not exceptionally difficult.
If you're lucky you can even observe animals here.
The view was magnificent and I was already looking forward to the opportunity to stop for a bite to eat at the castle.
Unfortunately, one section of the route was too narrow for my father and on one side it went down steeply. I am grateful that he told me what this section had caused in him. Because with my mother's death, 2019 had already caused enough misfortune to my family. Therefore, we didn't want to ask too much of our guardian angels. So we're turned around. Next time I would like to do the hike completely and then see the Sprechenstein Castle not only from below. But it's not possible go inside.
Stopping by an Alpine Pasture
What could be better than to do something good for your body after or during a stimulating hike, to rest and enjoy a cool drink or to fill your hungry stomach? For this purpose, numerous alpine pastures await you along the hiking trails, which also reward you with a view that makes every hiker's heart beat faster.
If you are not quite so fit, but still don't want to miss out on a social stop, I have a great tip for you: The Prantner Alm is accessible by car. As my father did not feel physically fit for the hike, I was looking for an alpine pasture to which we can go by car. I quickly found the Prantner Alm, which is only 11 km but a good 30 minutes drive from Vipiteno.
From the Prantner Alm you not only have a magnificent view of the Rosskopf and the surrounding mountains, but you can also feast to your heart's content. I had a delicious Tris di Knödel – cheese dumplings in three different flavours.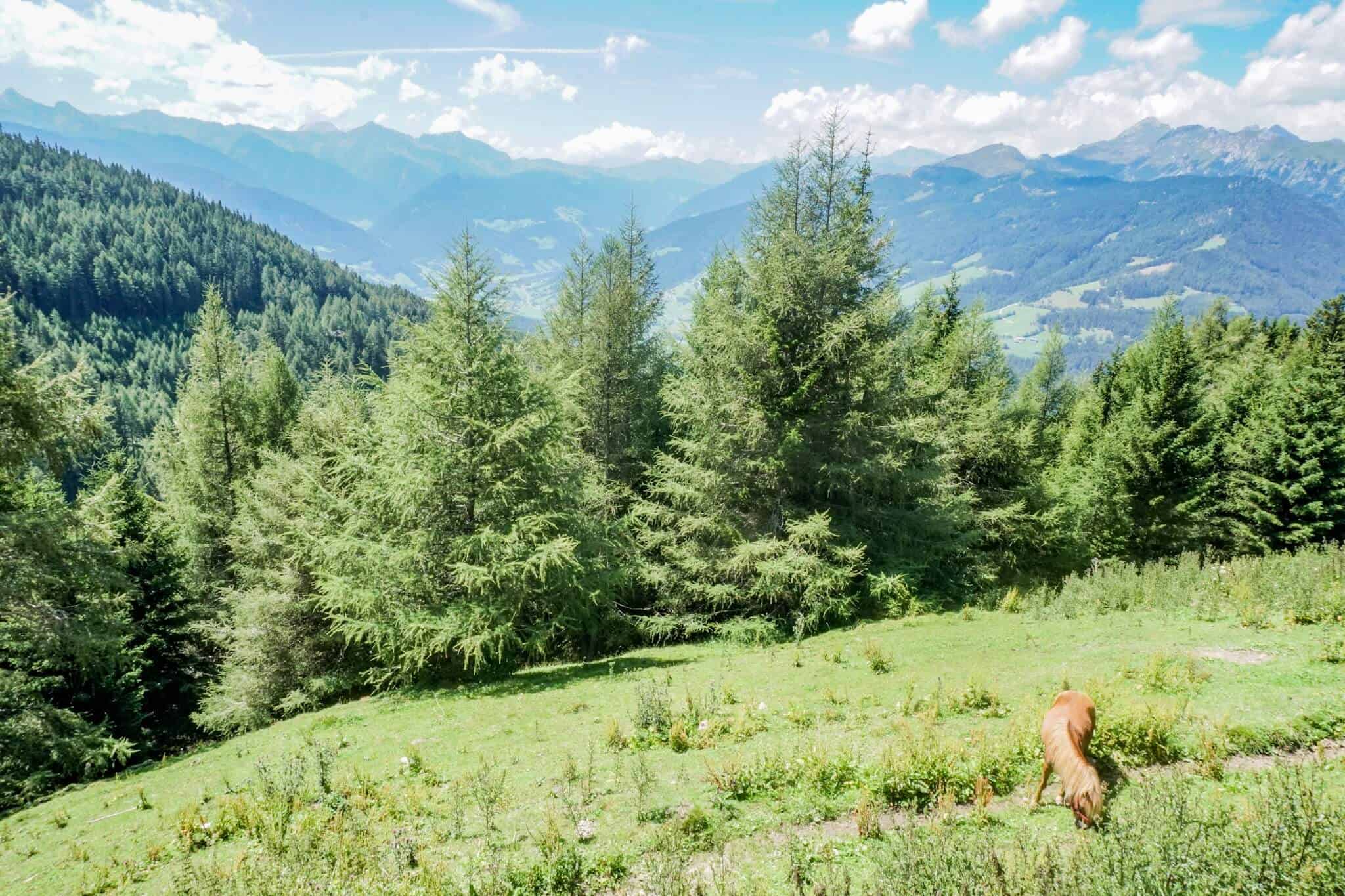 Sights
Castle Sprechenstein
The castle Sprechenstein is a place shrouded in legend. It is said that the ghost of a murdered knight haunts the castle, who once lived at Sprechenstein Castle with his beloved wife. The arrow that cost him his life is still in his heart. A knight who lived in nearby Reifenstein Castle killed him out of jealousy. There is no proof that the story is based on a true incident.
A striking feature of Burg Sprechenstein is the circular keep from the 13th century. The large hall and the chapel, dedicated to St. Erasmus, with its small winged altar, as well as the wall paintings and frescoes were created in later centuries. The castle and its works of art were hit by bombs during the Second World War and later restored. Since the end of the 18th century the castle Sprechenstein has been owned by the princes of Auersperg.
As mentioned in my article above, the castle Sprechenstein can only be seen from the outside.
For the sake of completeness it should be mentioned that Burg Sprechenstein is actually located in the neighbouring Freienfeld.
Castle Reifenstein
Southwest of Vipiteno, the imposing Reifenstein Castle looks down from a rocky hill. The castle first appears in historical documents in 1110, when it was given as a fiefdom to the nobles of Stilfes. In 1410 the ownership of Reifenstein passed to the Order of German Knights. In 1813 the order was dissolved and the Princes of Thurn und Taxis received the castle as compensation for the abolition of their postal monopoly.
The Gothic interior of the castle takes visitors back to the Middle Ages: the entrance gate is secured by a portcullis and the historic drawbridge leads across a moat. Balustrades and embrasures in the walls remind us of the numerous battles that took place here. Unfortunately, I could not enter, because this is only possible with a guided tour, which takes place at certain times. I stupidly missed the last guided tour on the only available day.
The castle is privately owned, but is open to visitors.
Opening hours: These vary from month to month. In principle the guided tours take place between 1 April and 31 October. As mentioned, the visit is only possible within the framework of a guided tour with at least 4 people.
This year (2019) the guided tours took place at the following times:
Sunday to Friday at 10.30, 14.00 and 15.00
Closed on Saturdays

Entrance:
Euro 7,00 (Adults)
Euro 4,00 (Children)

Further information:
Tel. +39 339 2643752, info@sterzing.com
Vipiteno – Hotel
For about 25 years now, when I stop over in Vipiteno, I have been staying at the Gasthof Hotel Larch. Actually it is located in the neighbouring Freienfeld–- just like the Sprechenstein Castle and the Trenser Höhenweg. The 4-star hotel is quaint, cosy and we feel very comfortable. You shouldn't expect luxury, but a homely feel-good atmosphere. The food is prepared with fruits and vegetables from our own garden, the breakfast eggs come from the chickens in the stable behind the house and the yoghurt is homemade. With milk from cows from the mountain pasture – and lots of love. You can taste that and that's why we have been coming back again and again for so many years.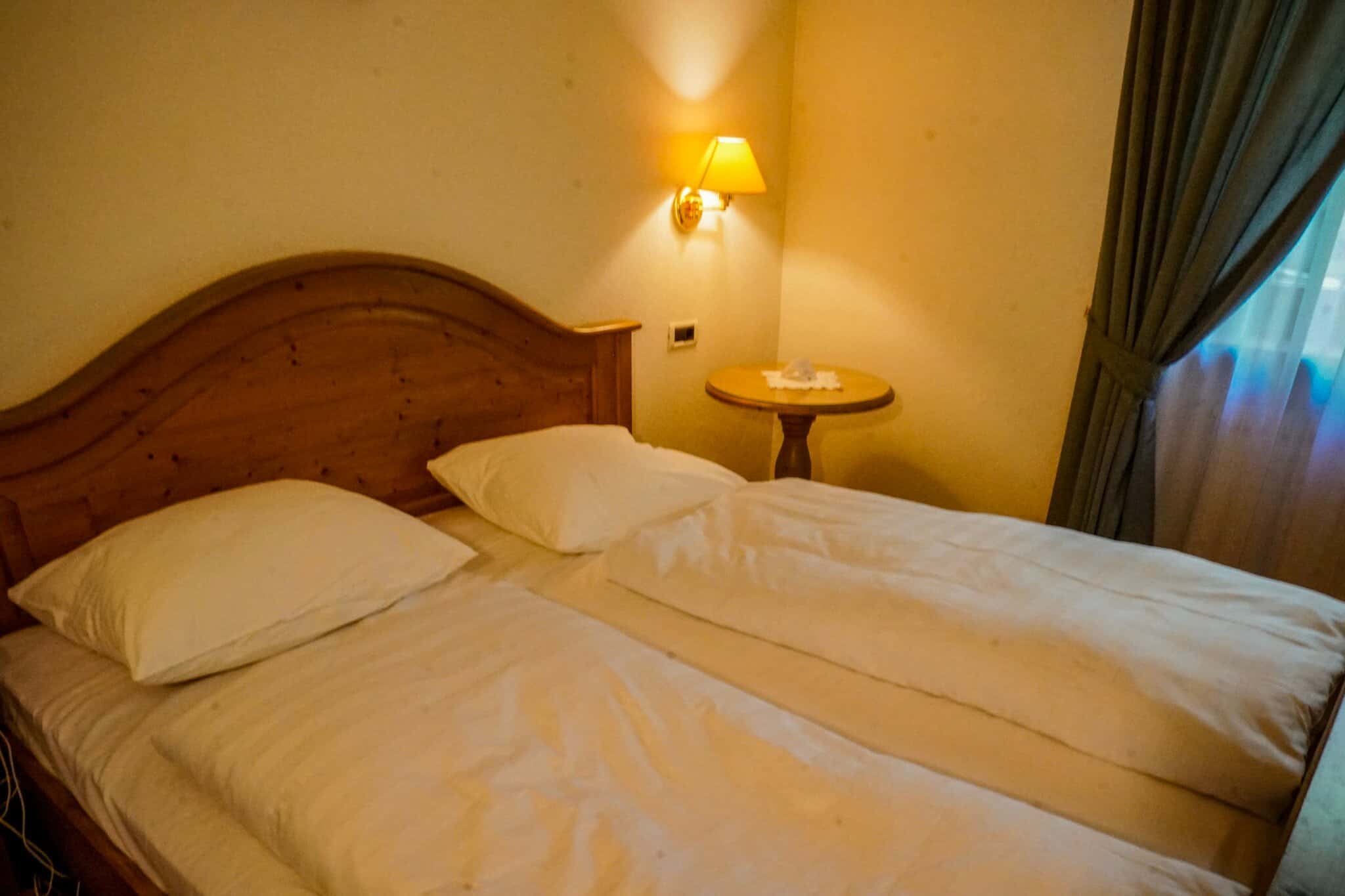 If you prefer to book with Booking, you can find the available hotels in Vipiteno here: Vipiteno Hotels on Booking*.
Vipiteno – Where to go Next?
Venice: The city of bridges is always worth a visit. Whether for carnival or any other time of the year, Venice is touristic, but also has many quiet corners to offer. Meanwhile, I have already been there four times and it does not get boring at all. I always discover something new and am already looking forward to my next visit when I leave. Flixbus runs daily from Vipiteno via Innsbruck to Venice.
Verona: I have also been to Verona four times. But especially for a visit to the opera it is always worthwhile to take the way and spend a few days in this beautiful city. Flixbus runs several times a week from Vipiteno via Innsbruck to Verona.
Palermo: Palermo is my second home. Therefore I am a little bit prejudiced. But I think that everybody should have been at least once in the Sicilian capital. Culture, gastronomy, architecture or just enjoying the sun on the beach of Mondello… Palermo is not to be missed!
Final Thoughts
For me personally, Vipiteno has been the starting point for holidays for well over two decades. Almost all trips to Italy began here and sometimes, on the way back, they also ended here.
For a long time my family, unfortunately, only stayed overnight there without exploring the area. I am glad that I now catch up step by step.
Have you ever been to Vipiteno? Have you only spent the night there or have you also looked at the surroundings? Let me know in the comments!
Did you like this blog post?
Share it in your social networks!
Newsletter
Subscribe to my newsletter so I can keep you posted about my life of travels and as a digital nomad! You will never miss a new blog post, a new ebook or where my next adventure is going to bring us. Because it's never going to be boring!